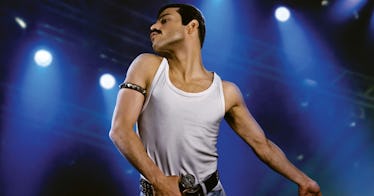 The 'Bohemian Rhapsody' Ratings Are In, So Get Ready To Rock
20th Century Fox
There are rock songs, and then there is "Bohemian Rhapsody." Written in 1975 as part of Queen's seminal Night At The Opera, it was famous for being the most expensive single ever created. It topped the charts twice in the UK, once in 1976 upon release and then again in 1991 after Mercury's death. It then was revived in America in 1992 when it was featured in Wayne's World. Naturally, it is also the name of the new Queen biopic in theaters at the end of the month. But the Bohemian Rhapsody ratings suggest though the song was a hit, the movie will never reach the same heights.
Bohemian Rhapsody had a lot of behind-the-scenes drama. Originally conceived as a Freddie Mercury biopic starring Sacha Baron Cohen in the early part of the decade, the film struggled to get off the ground, with rumors the surviving members of Queen wanted to be the actual focus of the movie instead of Mercury. Once the film did get off the ground, there were issues with the director, Brian Singer, who was fired from the film partway through production after he stopped showing up for work.
With odds stacked against it, it's therefore sad, but ultimately not surprising the resulting film did not impress critics. It currently stands at a sodden 51 percent splat on Rotten Tomatoes.
According to USA Today, the film is just too run of the mill for an artist and an oeuvre like this one.
Bohemian Rhapsody the song is a sonic masterpiece and Bohemian Rhapsody the movie is just a conventional rock flick, one all too ordinary for a man and a band that exemplified the extraordinary.
But many critics, including Awards Circuit, are quick to state leading man Rami Malek is not to blame.
Rami Malek's all-encompassing performance vibrantly steals every scene he inhabits. It's an excellent portrayal of an excellent musician. A flawed movie surrounds him but his captivating acting and bustling persona smooth out the rough spots.
Variety sums it up well:
With a performance as commanding as Rami Malek's at its center, why isn't Bohemian Rhapsody a better movie?
As for how the film is expected to do on arrival, long-range forecasts on Box Office Pro expect the film will pull in a respectable $25 - $40 million when it arrives just after Halloween, which is about average for a biopic carrying awards season hopes.
Buzz around Rami Malek's (Mr. Robot) anticipated performance as Queen front-man Freddie Mercury is driving strong interest and online conversation thus far, indicating potential for the film to follow in the footsteps of Walk the Line and Ray as an award-contending music bio released in November. The film's director change midway through production may cause some initial concern, and while we expect some front-loading by Queen's multiple generations of fans, early reactions from industry screenings of the film's first half-hour have been very encouraging.
Viewers will have to overlook the reviews, but as with comic book movies, there will be a hardcore fandom for whom a film like this is critic-proof.
Bohemian Rhapsody opens nationwide on Friday, Nov. 2, 2018.