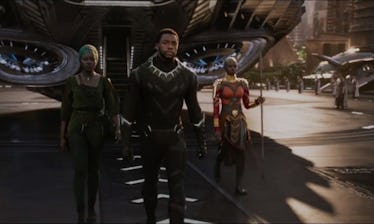 The 'Black Panther' Soundtrack Will Make You Feel As Invincible A T'Challa
Marvel
The movie hasn't even hit theaters yet, but the epic Black Panther soundtrack is already poised to hit No. 1 on the Billboard 200 charts next week, according to "industry forecasters." Black Panther: The Album was officially released Feb. 9 and is projected to sell over 100,000 units. Leave it the incomparable Kendrick Lamar to create a masterpiece — the Grammy-winning performer curated the album, has writing credits on all of the tracks, and is featured on five of them.
The gifted musician/producer and social activist called on some of the most influential artists of the moment for the project — many of them frequent collaborators of his — including The Weeknd, SZA, Jorja Smith, and ScHoolboy Q. The full track list was announced back on Jan. 31, and as expected, it showcases a diverse range of genres through an epic lineup:
1. "Black Panther," Kendrick Lamar
2. "All the Star," Kendrick Lamar, SZA
3. "X," ScHoolboy Q, 2 Chainz, Saudi
4. "The Ways," Khalid, Swae Lee
5. "Opps," Vince Staples, Yugen Blakrok
6. "I Am," Jorja Smith
7. "Paramedic!" SOB x RBE
8. "Bloody Waters," Ab-Soul, Anderson .Paak, James Blake
9. "King's Dead," Jay Rock, Kendrick Lamar, Future, James Blake
10. "Redemption Interlude"
11. "Redemption," Zacari, Babe's Wodumo
12. "Seasons," Mozzy, Sjava, Reason
13. "Big Shot," Kendrick Lamar, Travis Scott
14. "Pray For Me," The Weeknd, Kendrick Lamar
Ryan Coogler, director of Black Panther (he previously helmed films such as Creed and Fruitvale Station), knew that he wanted to collaborate with Lamar at one point, as he's been a longtime fan of the rapper's impressive body of work. When the opportunity to back such a groundbreaking Marvel project like Panther came along, the partnership kicked off.
"At first, he was just going to do a few songs for the film," Coogler told NPR. "Then he came in and watched quite a bit of the movie, and the next thing I know, they were booking a studio and they were going at it."
The rest is now making musical history.
Upon the announcement of Lamar's participation in the film, Coogler stated:
I am honored to be working with such an incredible artist whose work has been so inspirational, and whose artistic themes align with those we explore in the film.
Black Panther is a trailblazing achievement not just for Marvel, but for cinema on the whole — its cultural significance and influence has the potential to extend way beyond the confines of the movie theater.
Chadwick Boseman is playing the first lead black superhero for Marvel alongside a majority black cast which includes Lupita Nyong'o, Danai Gurira, and Michael B. Jordan The esteemed actor spoke to The New York Times about what the film's impact, noting, "I've done other films that have had historic significance because of what has happened in the past, but this not only refers to the past, it sets the stage for where we're going."
Nyong'o added,
Seeing it yesterday, I'm even more excited about the celebration of pan-Africanism, because this movie is really about a contemporary Africa relating very intimately with a contemporary America via the characters of Black Panther and Killmonger. We're talking about some really deep issues that we don't often voice but we all feel.
In addition to early critical success, Black Panther is already on track to top the box office in a major way. According to Variety, the superhero blockbuster could break the $152 million Presidents Day record that Deadpool previously set back in 2016.
Black Panther is set to open this Friday, Feb. 16, but if you need to get pumped right now, there's always Kendrick's incredible soundtrack to hold you over.