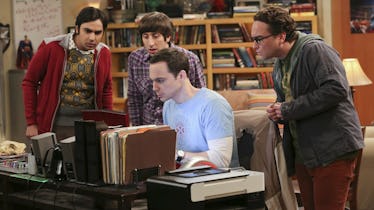 'The Big Bang Theory' Is Ending After Season 12, So It's The End Of An Era
CBS
The Big Bang Theory has been going strong for over a decade now. It's been the foundation of an entire fandom whose culture revolves around comedy, science, and goodhearted fun. But even with the show's legions of fans, The Big Bang Theory simply couldn't go on forever. And it's looking like the show will come to a close in 2019. That's right; The Big Bang Theory is ending and everyone's super bummed out about it.
Warner Bros. Television, CBS, and Chuck Lorre Productions released a joint statement that read:
We are forever grateful to our fans for their support of The Big Bang Theory during the past 12 seasons. We, along with the cast, writers and crew, are extremely appreciative of the show's success and aim to deliver a final season, and series finale, that will bring The Big Bang Theory to an epic creative close.
According to Entertainment Weekly, The Big Bang Theory is the longest-running multi-camera series in TV history. So, this is definitely the end of an era.
The first episode of the Season 12 is scheduled to air on Monday, Sept. 24. It'll move to its regular time slot on Thursday, Sept. 27. The show will come to a close in May 2019.
Soon after the news was announced, Kaley Cuoco posted an emotional message on Instagram to thank all who dedicated their time to the show.
This ride has been a dream come true and as life changing as it gets. No matter when it was going to end , my heart would have always been broken in two. Drowning in tears, we promise to bring you the best season yet. To the fans, our crew, families, Chuck Lorre, Warner Brothers , CBS, and everyone who has supported us for so many years, thank you. We are goin out with a bang 💫
The rest of the cast — Jim Parsons, Melissa, Rauch, Mayim Bialik, and Johnny Galecki — have all remained mum on the cancellation so far. I doubt it'll stay that way for long; they're bound to make a statement at one point or another.
For now, though, fans can find comfort in their other social media posts about the show. Such as this one from Bialik that shows pretty much the entire cast having a blast on set:
And this one of her and Parsons filming for the show outside:
Fans have also used social media to express how they're feeling about The Big Bang Theory coming to an end. Here's what they're saying at the moment:
So, it goes without saying that The Big Bang Theory will most definitely be missed. The show has clearly hit a nerve among fans and it's left an indelible mark on television history.
For now, I suppose, fans can at least revel in the fact that their favorite show is historic and has its own spin-off, Young Shelton. Not many shows accomplish what The Big Bang Theory did, so you could say it's going out with... a bang.