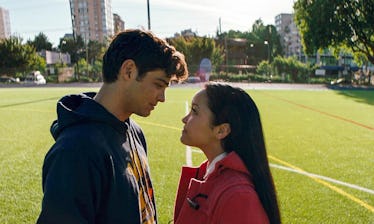 The Best & Worst Fictional Boyfriends From Books Will Inspire You To Start Your Next Chapter
NETFLIX
I know I sound like a broken record, but I love love. I like the subtle kind of love, the cheesy kind of love, the serendipitous sort of love — all of it. Sometimes I feel a void of romance in my own life and soul. This is occasionally due to my own actions, and other times due to the reality that dating sometimes feels as good and as calming as eating glass. In my mid and late 20s, I have a world of work to continue to do in terms of realizing what I need in a relationship and from a potential boyfriend (i.e. he needs to be kind and he also needs to be willing to field at least five daily texts regarding my feelings on books, sugar, and Ariana Grande). I'll continue to do that work, but I also thought it would be fun to revisit some of the best and worst fictional boyfriends from books I've encountered in popular books from the past year or so.
It's important to note, I am so deeply terrified of the reactions of the Peter Kavinsky super fans. Also, if you are currently dating anyone who resembles any man below who has received a grade lower than C, I think you need me to come to your house. With a bullhorn.
Enjoy the following cheat sheet.
Peter Kavinsky, To All The Boys I've Loved Before by Jenny Han