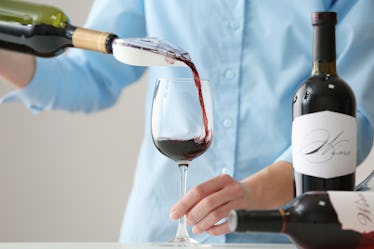 These Wine Aerators Will Make A $10 Bottle Taste Way More Expensive
If you're on the hunt for a wine aerator, you know that these little gadgets can seriously improve the quality of your wine. The best wine aerators "open up" a wine by introducing oxygen, a process that can improve the wine's overall characteristics. Think softer tannins, more flavor, and an enhanced aromatic profile. Young wines, in particular, can benefit from aeration. But without a sommelier-level knowledge of wine, it can be hard to determine what aerator is best for you.
The good news is that there are great aerators available at every price point, so it's really about determining what works for your budget. In terms of features, you'll want an aerator that maximizes a wine's contact with air, so models with "multi-step aeration" are a smart choice. You'll also want to look for ones that prevent sediment from getting into the glass, because no matter how smooth a wine tastes, grit in the glass can ruin the experience.
There are different mechanisms and materials to choose from too. Electric aerators attach to the bottle and let you add oxygen with a push of a button. They basically turn your bottle into a tap, so it's mega-convenient for you and your guests, but you'll be paying extra for it. Hand-held aerators tend to be more affordable and they give you the option to stand and pour. You can also choose between aerators made from stainless steel or acrylic, the former being more durable but also more expensive.
No matter what your budget or preference, you're sure to find an aerator below that will transform your wine-drinking experience. All of the aerators here are highly rated on Amazon and have loads of positive customer reviews.