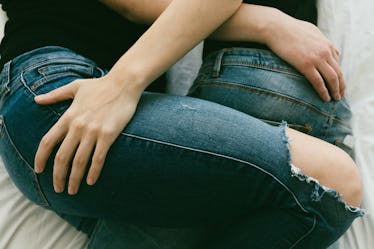 These Are The Perfect Vibrators For The Queer Babe In Your Life On Valentine's Day
Valentine's Day is right around the corner, and if you're looking for a new, fun toy to pleasure yourself or your significant other, then the folks at Le Wand and Unbound have got you covered. From a wand accessory that takes the fumbling out of finding the elusive G-spot to an egg-shaped vibe that's nicer than a rubber ducky in the tub, these adult toys provide a stimulating and intimate way for you and your partner to explore one another's bodies and provide mutual pleasure. These are some of the best vibrators for queer babes who are looking for new levels of intimacy and communication.
All three of these toys come at different price points that are totally convenient for people at different income levels. That's because everyone is deserving of intimate pleasure and tenderness, regardless of what your paycheck looks like.
The best thing by far about these different vibes, though, are the variations of settings and speeds you can use to customize your own pleasure. One of them even has the capacity to record different pulse rhythms! That means that these toys are ideal for sensitive bodies. Plus, with many non-penetrative capacities, they are great for working up to pleasure slowly, sending ripples of sensation throughout your whole body well before the peak. I tried them out, and here's what I thought.
1. Le Wand Massager
Everyone is probably familiar with the wand by now, but this version is a new twist on the classic vibe. What's the twist, you ask? Well, for one thing, Le Wand is cordless, which means your Valentine's Day activities won't be restricted by the distance of the bed from the electrical outlet. And you won't have to involve any extension cords.
The rechargeable massager also comes with a variety of attachment covers that provide different forms of penetrative and non-penetrative pleasure. For Valentine's Day, Le Wand is including a free G-spot stimulator with the purchase of a massager, but there are also texture covers like the one pictured above. And since the G-spot is such a notoriously tricky region to navigate, Le Wand is also including two different pleasure guides charting the anatomy, and even the myths involved with this unseen pleasure center.
As I don't have a partner right now, I tried out Le Wand completely solo. For me, the wand's 10 different speeds and pulse patterns provided more than enough stimulation. I actually wasn't super into the G-spot stimulator, but as penetrative sex hasn't really been doing anything for me lately, this was probably more of an individual preference than an issue with the product itself. Honestly, the only downside to the Le Wand that I could find was that it takes about three hours to charge, so I couldn't play with it right away. Patience is a virtue, as they say.
2. Squish
Queer babes will absolutely love this waterproof toy. The unique egg shape makes it easier to stimulate different areas of your pleasure regions before working up to the clitoris. The really amazing thing about this innovative toy, though, is the fact that you can create customizable rhythms just by putting it in record mode and squeezing it at different rhythms and intensities. This capability makes it probably the most innovative vibe I've ever experimented with and definitely something worth including in your collection.
Plus, there's something really sexually empowering about the Squish's non-phallic shape and the fact that it's made out of high-grade silicon. As an added bonus, Unbound is including a free Zip bullet vibe with every purchase of a Squish vibrator from now until Feb. 14th. This deal is like a queer couple's sex toy dream come true.
3. Zip Vibe
Normally, I'm not the biggest fan of bullet vibrators. In my experience, they've been dinky and low in quality, lack enough horsepower to bring you to climax, and the batteries are a pain to replace. But since the generous folks at Unbound were including their Zip vibrator with a purchase of every Squish toy, I figured that I should do my due diligence, for matters of research, and try this one out.
And I'm glad I did! From a purely aesthetic standpoint, I'm super into the quartz pink color, and as a matter of convenience, it comes with the battery that you need. In a pinch, the pulses are powerful enough to stimulate an orgasm, and it's pretty quiet, too. That makes it a great travel companion.
Plus, when combined with the Squish toy, I could see this bullet vibrator being a ton of fun. It won't go in the bathtub, but it would be ideal for stimulating the clitoris while the rest of you gets a squishy work around. That sets you up for a Valentine's Day worth remembering, whether you're spending it with your lover or flying solo. Have fun!
Check out the entire Gen Why series and other videos on Facebook and the Bustle app across Apple TV, Roku, and Amazon Fire TV.
Check out the "Best of Elite Daily" stream in the Bustle App for more stories just like this!