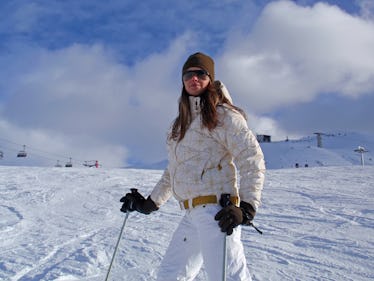 These 4 Pairs Of Sunglasses Were Made For The Slopes — & They Start At Just $20
Shutterstock
Although sunglasses typically conjure up visions of palm trees and balmy weather, they're even more important on the piste — where you're more exposed to the sun's ultraviolet radiation, and snow and sun amplify each other. The best sunglasses for skiing filter 100% of damaging UV rays with shatterproof lenses and a full-coverage frame to protect against glare, wind, snow, and debris when you're heading downhill. It's worth investing a little extra if you're looking for specific features, but budget-friendly sports sunglasses often come with a lot of the essential specs.
Sun Protection
A wraparound lens shaped like a shield provides the clear field of vision you need on the slopes. For 100% UVA/UVB protection, look for a UV400 rating; some high-end pairs will also eliminate UVC rays.
Lens Type
The amount of visible light your glasses let through — and, therefore, how dark they'll be — is often be listed as a percentage of VLT (visible light transmission): for bright days you might only want less than 25% of light through; conversely, on cloudy days you'll want 50% or more of light through. A polarized lens cuts down on reflected glare, and many sports sunglasses offer interchangeable lenses that let you adjust based on the current conditions. For less hassle, photochromic lenses will automatically adjust to ambient light for visibility in almost any condition.
Frame Material
As for the frame your lenses are set in? Your safest bet is a wraparound frame made from materials engineered to bend instead of break, like ultra-flexible TR90, built into an aerodynamic curve. Thermoplastic resin, or TPR, is a good budget alternative with similar properties. You'll also want anti-slip rubber or silicone on the nose (and, ideally, the temples) to keep your glasses in place, and nice pairs will have targeted ventilation around the lenses or stems to help reduce fog.
From top-of-the-line sunglasses built for performance to the budget pairs that rival Oakleys, these are the pairs worth keeping next to your lift tickets.
We only recommend products we love and that we think you will, too. We may receive a portion of sales from products purchased from this article, which was written by our Commerce team.