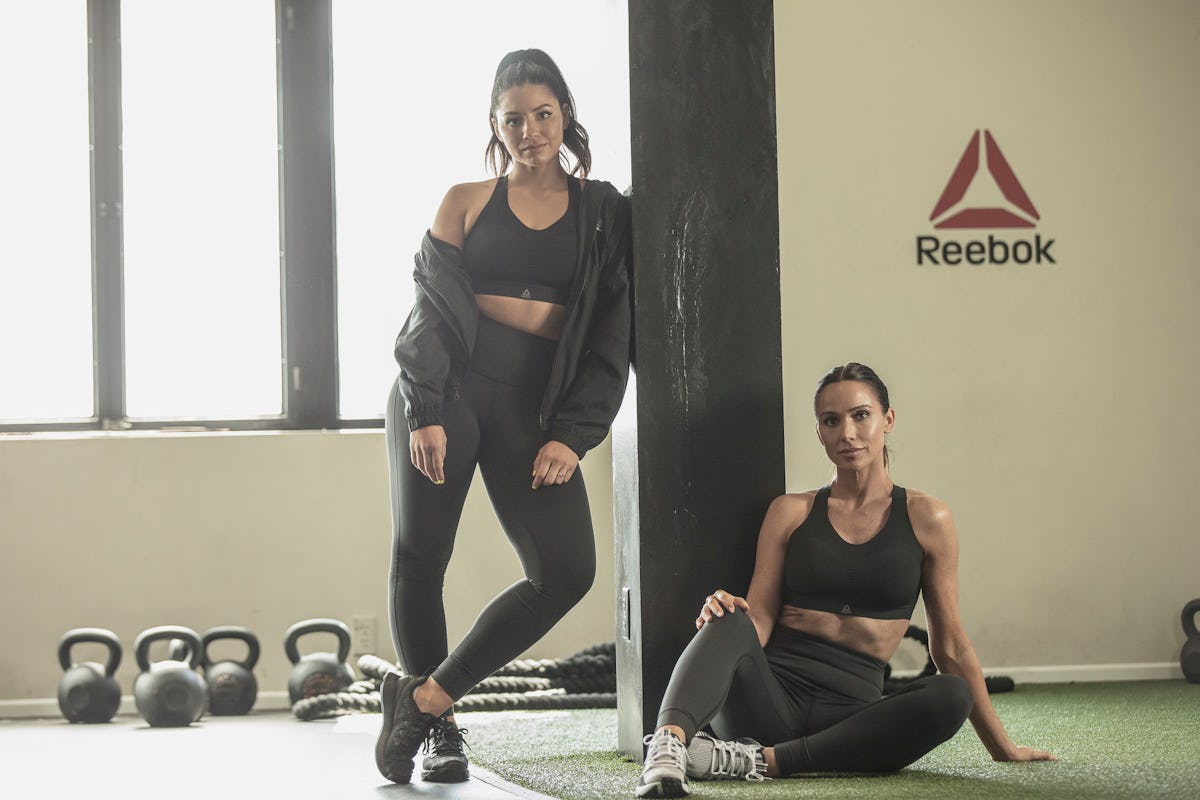 Kim Kardashian's Glam Squad On Finding The Energy To Work Out & Their Fave Gear — Exclusive
Courtesy of Reebok
I work out often (like four times per week) and I'd say at least three of those four times, I'm very aware of my boobs. I love boxing, high-intensity exercises, and dance-inspired cardio classes, but the hardest part of my workouts is keeping my size C chest from spilling out and over my sports bra. Luckily, I got to catch up with Justine Marjan and Mary Phillips — the glam squad behind the most glam faces in the world — to get their best beauty tips, favorite workouts, and their recommendations for the best sports bra for working out.
I sit down with the two beauty powerhouses at The Body LA, a gym in West Hollywood, California, where they are shooting a workout video for the Reebok PureMove Bra. Mary Phillips, makeup artist to celebrity beauties like Chrissy Teigen, Kendall Jenner, Bella Hadid, and Kim Kardashian tells me that she shares similar struggles that I face with sports bras. But while you can catch me in a class adjusting myself, she admits to taking a different approach with ill-fitting bras. "I have literally been driving and had to get out of my car, open up my kit and cut my strap off. Other bras pull really hard on my shoulders but the PureMove Bra feels good and makes me feel like I have a lot of support too."
"I feel like most of the time I don't feel comfortable doing a workout in a sports bra without having something over it because I feel like it moves while you're working out. I feel like I can move around and do things in this one and I don't have to worry about that." -Justine Marjan
Instantly, I think about how I need to try it for myself — then hairstylist Justine Marjan, tells me, "this bra has built-in technology so when you're working out harder and your body gets hotter, the fabric constricts so you feel more supported but when you're just relaxing, it loosens so it doesn't feel tight or uncomfortable." For someone that wears a sports bra on my non-workout days, I'm sold.
When they're not working, Marjan and Phillips do their best to fit a workout in. "With our schedules and the amount of traveling that we do, it's kind of the one thing that snaps me out of jet lag," says Phillips. "We need to have good, high energy in our jobs and around our clients. You always want to be positive and in a good mood and I feel like one thing that really does that is working out." But when does she find time to squeeze in some time for exercise? She says, "I get up every morning at 5 a.m. and do a 6 a.m. workout, unless we have a very early call time. I have to go in the morning — I can't go after work." While it's normal to be tired after any work day, Phillips tells me that the average work day for makeup artists and hairstylists is "anywhere from six to 12 to 18 hours. I've done music videos for over 24 hours before. It really just depends on the day." Those are some long days!
Marjan has the same approach to working out. "I'm the exact same way. I have to work out really early in the morning otherwise I won't do it. I'll either do yoga at home or I'll take a class." She also adds working out is so important because she feels like she loses circulation whenever sitting for long spells, like when traveling. "I feel like working out really gets my blood flow going and it helps with jetlag and mental health."
And long days aren't the only obstacle this glam squad faces — both Phillips and Marjan are known for traveling with their celebrity clients. Although it's a lifestyle many dream of, it makes sticking to a workout schedule incredibly difficult. While they both tend to get acquainted with their hotel gyms while on the road, they both admit to sticking to their routines better when they're home.
"When I'm on the road, I'll go to the gym at the hotel but I can't work out like that every day. I just feel like I get motivation from the people around me. Sometimes I feel like if the person next to me is going to do that many reps, I'm going to do more — I'm competitive," says Phillips. "I actually go to The Body LA or Tracy Anderson and pilates — usually those three are my go-tos. Occasionally if I'm in a different city, I'll do a Barry's Bootcamp class because it's always consistent and a good workout."
Meanwhile, Marjan extols the benefits of both group and solo exercise."I love going to classes because I feel like it does really motivate you and it's nice to have somebody tell you what to do. But sometimes in the morning I do yoga at my house and it's quiet and I can get that meditative aspect in at the same time, too. Sometimes at the gym, if there are too many people there, it feels overwhelming. If it's too crowded, sometimes I walk into the gym and leave right after."
Marjan also believes that variety is the name of the game. "I like to switch it up so I can see results in my body more and stay motivated and don't get bored. I love yoga, I love doing the stair stepper at the gym, I love group fitness classes." But at the end of the day, your performance depends on the tools you have to work with, including your workout gear. "It's so important to have the right bra," explains Marjan, who loves yoga. "You're putting yourself in the weirdest positions, and you need to wear something that you feel comfortable in and don't need to adjust."
This is exactly the conundrum that inspired Reebok's new bra launch, and thus the workout video that brought Marjan and Phillips together today. In order to create something incredibly comfortable and versatile for women to wear while working out, the brand teamed up with the University of Delaware to test breast movement, research product variations, and perfect fabric technology. It took the duo three years to develop a perfect final product: The PureMove Bra size range includes XS, XS/S, S, S/M, M, M/L, L, L/XL, XL, XL/XXL, and it's designed to ensure a more personalized fit for athletes and athleisure enthusiasts everywhere.
Get your hands on your own PureMove Bra ($60; reebok.com) and you won't have to worry about spillage, pinching, or riding up again, because as Justine Marjan said, your focus should really be on the exercise.