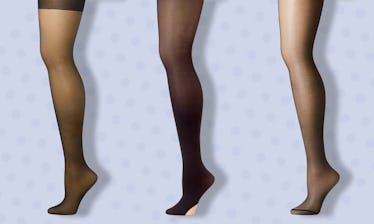 The Search Is Over: These Are The Sheer Black Tights Actually Worth Your Money
Amazon/Elite Daily
While there are many different types of black tights out there, the best sheer black tights are perfect for a barely-there look that'll go with any outfit. And though cheap drugstore tights certainly get the job done, the best tights are ones that stand up to repeated wear.
If you didn't know, finding sheer tights is all about denier, aka the unit of measurement for fabric density. You want a low denier (think anywhere from five to 30) for optimal sheerness, as these fabrics are thinner. However, warning: Low-denier tights are delicate and more susceptible to runs and tears, so you'll want a pair from a reputable brand that makes theirs built to last.
To help you find the highest-quality tights out there, I've compiled a list of the best sheer black tights, below. Aside from boasting low deniers, my picks are all made with nylon and spandex fabric blends for ample softness and stretch. They come in a variety of different sizes and cuts, with some even offering other useful features like reinforced toe areas for closed-toed shoes as well as comfy waistbands that stay put. Read on to shop them all, then check out the best opaque tights!