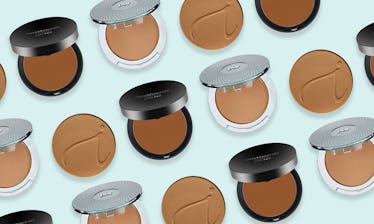 If You Have Dry Skin, These Are The Powder Foundations That Will Work Best For You
Amazon/Bustle
Powder foundations are a popular choice for a lot of people, whether they're makeup newbies or old pros. But things get tricky if you've got dry skin. Why? Powder foundations aren't really dry skin-compatible. Powders are meant to soak up oil — something that dry skin types are desperately lacking. So when swept across a bone-dry face, they cake up. But if you're set on this format and searching for the best powder foundation for dry skin, there are a few out there that fit the bill and have received rave reviews from dry-skin users, too.
Light- to medium-coverage tends to be best, since they don't cling to dry flakes as much as a full-coverage foundation does. You also want to keep an eye out for pressed powder foundations. Loose powders tend to latch on to dry flakes more than pressed ones, since they aren't as finely milled. This works out, too — makeup artists and experts agree that pressed powders work better as foundations, while loose powders, on the other hand, are better for setting.
Got all of that? Good. Ahead, you'll find a list of the best powder foundations for dry skin. Scroll on to find your new favorite foundation pick.