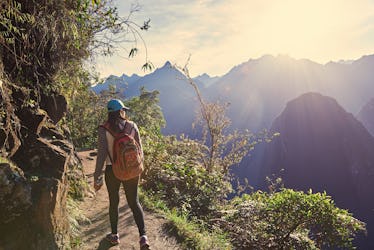 If You're Hitting The Trails, You Need These Moisture-Wicking Hiking Underwear
When it comes to hiking, choosing the proper apparel is key — and that includes your undies. Whether you're planning to hit the Pacific Crest Trail or go for a short hike at your local state park, it's crucial to your comfort and your health to make sure you're choosing the best hiking underwear on the market. That's why I've rounded up some of the highest-rated hiking undies Amazon has to offer.
Although gynecologists seem to agree that cotton is the best fabric for vaginas, hikers seem to agree that cotton is the worst fabric for hiking — especially if you're into long-distance treks. The primary problem with wearing cotton underwear for hiking is that it is anti-moisture wicking, and hikers need undies that will wick sweat and dry quickly, especially if you're washing your undies in the river every night for a week-long hiking trip.
Whichever type of hiker you are, you'll want to make sure you're hiking underwear is made of nylon, lycra, merino wool, bamboo blends, or even a rayon material, according to seasoned hikers, because those fabrics are breathable and more quick-drying than cotton. You can also search for hiking underwear that's made with antimicrobial-treated fabric, if that's important to you. Some hiking underwear even boast thermo-regulating and odor-fighting properties, and seamless undies are always a good bet when it comes to comfort and avoiding chafing.
There isn't one perfect style of undies for hiking (that's about your personal preference), but whether you prefer a classic bikini cut, boybriefs, or hipsters, know that the best hiking underwear come in all sorts of shapes and sizes.