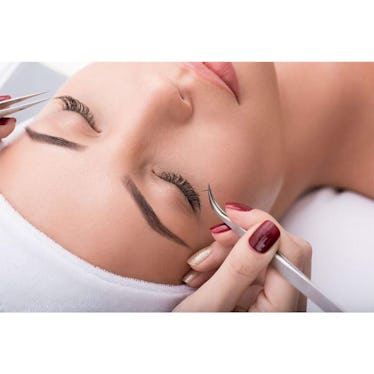 An Eyelash Glue That Gives You 2 Months Of Wear — Plus 4 Other Long-Lasting Formulas
Amazon
Whether you're a professional technician or just looking for a lash glue that will last beyond a night out on the town, the best eyelash glues that last for weeks will give you maximum wear time with minimal effort, but there are a few factors to keep in mind when picking one.
How long the glue lasts: If you're looking to get the absolute maximum wear time for your lashes — up to two months — you'll be dealing with a stronger formula that requires professional application. These formulas need to be applied by a pro, since an imprecise application can result in eye irritation. But if you're just looking for a week or two of wear, you can get a more gentle formula.
How quickly it dries: A gentler beginner's glue will give you a few extra seconds of wiggle room before it sets, but a longer lasting formula tends to have a shorter setting time. If you're a pro technician, you can opt for a shorter setting time to streamline the process.
Color: Darker glues give the appearance of fuller lashes while clear glues will give you the flexibility to apply fun and colorful falsies without the distracting residue.
Since eyes can be very sensitive, I've made sure to feature products that are low-fume as well as latex- and formaldehyde-free. For newbies, I suggest you first test out a glue that lasts for a day first. And as always, spot test on a patch of skin before applying to eyelids.
It's important to note that most of these eyelash glues are professional-grade and should be reserved for use by your tech. That being said, I've included a formula you can self-apply at home.
We only recommend products we love and that we think you will, too. We may receive a portion of sales from products purchased from this article, which was written by our Commerce team.