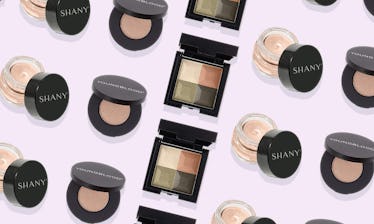 This Eye Makeup Is So Clutch For Anyone With Allergies Or Sensitivity Issues
Bustle/Amazon
If you're someone with sensitive, allergy-prone eyes, you know how difficult it can be to find eye makeup that doesn't cause irritation or any other unwanted reactions. Anything you put on and around your eyes can turn them into red, teary messes almost instantly. So when searching for shadows, looking for liners, and perusing primers, you have to be hyper-aware of what ingredients are in the products you're using. In other words, you need to get well-acquainted with the best eye makeup for allergies.
There are certain ingredients that, depending on what you're allergic to, can make your eyes itch and tear. So if you're shopping for hypoallergenic makeup there are a few things to keep an eye out. Formulas that are free of parabens, fragrances, and alcohols are your best bet, as these are common causes of allergies around your eyes. In fact, you should keep an eye out for more natural, plant-based ingredients. These tend to be more gentle than harsh chemical ingredients, and less likely to cause an allergic reaction.
Below, we've rounded up a whole host of hypoallergenic eye makeup that will allow you to create the looks of your dreams — without crying your eyes out.