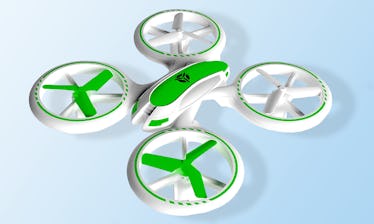 These Are The Best Drones You Can Get For Under $100 — Seriously
Amazon/Elite Daily
You don't have to spend a fortune to get your hands on a drone or cool flying quadcopter. When you know where to shop and what to look for, you'll find the best drones for under $100.
If you're new to the world of drones, there are a few things you need to know. Some drones may require assembly, but they don't always state this clearly on the package. You'll see acronyms like RTF (ready to fly), BNF (bind and fly), and ARF (almost ready to fly). A BNF drone comes assembled, but without a controller, so you'll have to buy it separately. An AFR drone is usually a kit that's partially assembled, so you might have to purchase several parts to complete it. For beginners, ready-to-fly drones are really ideal. You'll also want to look for a drone with six-axis gyro stabilization, as this type of gyroscope technology provides more stable flight and control in windy weather, preventing crashes.
It's important to note that, depending on its size, you might need to register your drone. According to the FAA, any flying aircraft that weighs more than 0.55 pounds and less than 55 pounds must be registered. Definitely check and comply with the federal laws to avoid any trouble.
To help get you started, here's a quick roundup of the best drones for under $100. They're all RTF and guarantee a good time.