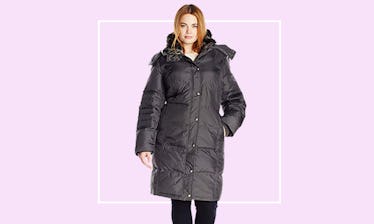 These Down Jackets Are The Key To Staying Warm All Winter
When the weather is chilly, it's hard to beat a good down jacket. But anyone who's shopped around knows there's a wide range of quality to choose from. When picking out the best down jackets for women, there are generally two key components to consider:
Exterior Shell: This is the part of the jacket that protects you from the physical elements and keeps you dry. The best shells are typically made of tough material like polyester or nylon and coated with DWR (aka durable water repellent) or other waterproofing systems. You can often gauge durability based on how many deniers the fabric has, since this measures the thickness of each thread. It's also important for the shell to be windproof, too.
Insulation: This is the part in the middle — the down itself — that traps your body heat and keeps you warm. It's usually measured by "fill power," which is essentially how fluffy the feathers are inside the jacket. The higher the number, the warmer you'll be. Fill powers range from 300 to 900, and jackets in the 600 to 650 are usually a good choice.
Aside from those key elements, you also may want to think about features like pockets, hoods, cuffs, thumb holes, and other extras that add to your warmth and comfort. To help you make a decision, I've put together a list of the best down jackets for women, several of which I've tried myself, to fit a variety of occasions.