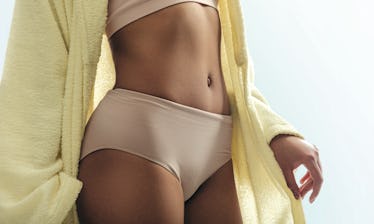 This Editor-Approved Underwear Is $2 Per Pair (Seriously) — Plus 4 Budget-Friendly Options On Amazon
Olena Yakobchuk / Shutterstock
It can be shockingly expensive to buy underwear, especially if you're shopping in lingerie stores or buying individual pairs. Prices can quickly eat away at your budget, especially if you prefer to own enough underwear to avoid doing laundry too often. But luckily, I've discovered that the best cheap underwear is actually available on Amazon. The key is to buy it in multipacks, so that the cost ends up being as low as $2 a pair.
But before making any purchases, think about your preferred type of fabric and which cut is right for you.
Fabric
Cotton is a good material for underwear, as it offers both breathability and softness. It's also usually fairly budget friendly. However, cotton doesn't dry quickly, so it may not be the best pick for working out. Polyester and nylon are known for their ability to wick away moisture, making them good options for workouts. Rayon is also super soft and breathable, and while silk underwear is another breathable option, the luxe-feeling fabric also tends to be expensive, so you won't find it on this list.
Cut
Another thing to consider is the cut of the underwear. In case you need a refresher, here's a breakdown of the most common types:
G-strings and thongs are your best bets for avoiding panty lines, since they don't cover your cheeks. Some people find them uncomfortable, though, so it's all about personal preference.
Hipsters hit right at the, well, hips, so they are really good for wearing with low-rise bottoms.
Briefs offer good coverage in the front and back, and tend to be really comfortable for most people.
Bikinis basically fall somewhere between thongs and briefs, in that you get some coverage on the behind, but not complete coverage.
Boyshorts are basically a cross between underwear and boxers, which means they are especially awesome to wear while lounging around but less ideal to slip on under tighter jeans or skirts.
With these different options in mind, I've selected five of the best and cheapest underwear sets on Amazon. All of these pairs come out to no more than $5 per pair, so don't be afraid to give them a try.