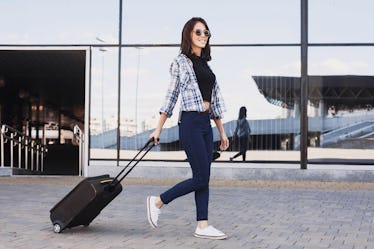 These Carry-Ons Are Compact, Durable, & Perfect For Your Next European Getaway
When traveling internationally, carry-on size restrictions can vary widely from airline to airline. So before shopping for the best carry-on luggage for Europe, you'll want to first check the size limits for the particular airline you'll be flying. While the most common size limit for U.S. airports is 22 by 14 by 9 inches, many European airlines require carry-ons to be even smaller than that — and some European airlines (especially budget airlines) are very strict when it comes to size.
Once you've figured out the size you need, think about the materials and construction. Hardshell luggage should be made with a sturdy mix of polycarbonate or ABS, while soft-shell luggage is most durable when made with tough nylon, polyester, or other ripstop fabrics.
The wheels are another important feature to consider — spinner wheels rotate a full 360-degrees, while roller wheels only move back and forth; the former offers more agility on even surfaces (like rushing through an airport), while the latter tends to be better on uneven terrain, like sidewalks. For most people, this factor is a matter of personal preference.
Lastly, look for a reliable retracting handle (aluminum construction is best) and any extra organizational elements like zippered pockets and compression straps.
Once you've found your perfect carry-on, it's a good idea to measure it when it's full (and I do mean before you leave for the airport) to make sure it still falls within the needed size limits. Also keep in mind that the measurements should include the handle and the wheels (for quick reference, check out this handy chart with international carry-on luggage regulations).
I've put together a list of the best carry-on luggage, featuring both soft-shell and hardshell options at two different price points. Read on to find the right one for your next European trip.