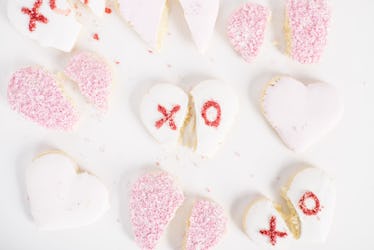 7 Women Share The Best Breakup Advice They've Ever Received & It's Mindblowing
Breaking up is hard to do, as the song goes, but recovering from a breakup can be even harder. Trust me, I've been there. While sometimes I've bounced back stronger than ever from a split, I've also spent a solid week post-breakup in bed spooning a bottle of Whispering Angel. So, honey, I feel you if you've got a bad case of the heartbreaks. If you're in the thick of mourning a lost relationship, it might seem like nothing will make you feel better. But one thing that might make you feel a teeny bit less terrible is some of the best breakup advice the internet can provide.
Whether you deal with heartache by club-hopping your pain away or by isolating yourself with Netflix and tissues, sometimes what really does the trick is hearing what helped other people get through their own tough breakups. While every situation is different, rejection is still the worst and it's perfectly OK to feel all the feels and process at your own pace. I reached out to my nearest and dearest for their best breakup advice, so if your sweet heart just took a beating, sweetheart, pour a glass of that rosé (don't spill on your sheets) and read on.