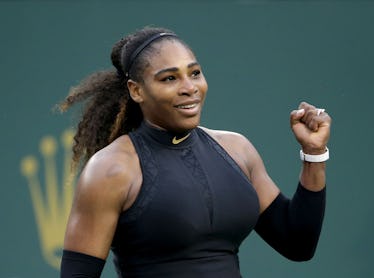 The 'Being Serena' Trailer Is Here & Serena Williams Is As Real As It Gets
Jeff Gross/Getty Images Sport/Getty Images
Even if you don't identify as a sports fan, it seems impossible to not admire Serena Williams and her tenacious career. The tennis star has had a busy year, marrying Reddit co-founder Alexis Ohanian in November 2017 after giving birth to their daughter Alexis Olympia in September. While it was a monumental time for her personal life, Williams is one of the most decorated athletes in tennis, holding the most Grand Slam titles in singles, doubles, and mixed doubles. Being in the professional field for over 20 years has obviously made Williams an icon, and now she's keeping it real in an upcoming HBO docu-series. The Being Serena trailer is here, and we're about to get to know Williams in an entirely different light.
In a teaser trailer released for the five-part series, Williams touches upon the struggles of maintaining success in her career when she unexpectedly became pregnant last year. The trailer emphasizes her titles as a mogul, champion, and sister before sharing clips of her working out, playing tennis, and being with her baby and husband. It even includes a brief glimpse of Williams and Ohanian standing at the altar during their wedding. These quick scenes play over an vulnerable interview in which Williams looks directly at the camera and admits:
When I realized I was pregnant, I was like, 'Oh, my God. How am I gonna play?' I put so much pressure on myself. I want to make sure that I'm the best. I don't know if there's anything left for me in tennis, but I'm not done yet.
Set to premiere on May 2, the HBO series comes soon after Williams opened up about her dangerous childbirth experience in a February 2018 essay for CNN. Encouraging readers to work with UNICEF to help expectant mothers in less fortunate situations, the essay focused on making a change in fatal newborn statistics. The 36-year-old revealed that she nearly died after giving birth to her daughter, who was brought into the world via emergency C-section:
The surgery went smoothly. Before I knew it, Olympia was in my arms. It was the most amazing feeling I've ever experienced in my life. But what followed just 24 hours after giving birth were six days of uncertainty. It began with a pulmonary embolism...This sparked a slew of health complications that I am lucky to have survived.
According to Huffington Post, Williams made her first return to the tennis court last week, losing to Naomi Osaka at the Miami Open. Like a champ, Williams released a statement emphasizing that she was proud of her progress, regardless of the outcome:
Every tournament is an opportunity for me to better understand the areas I need to improve to be my best. Naomi played a great match and I learn something each time I play. I look forward to continuing my return by progressing every day. I'm so grateful for my fans who continue to support me every step of this incredible journey.
Williams also acknowledged her struggles in post-childbirth recovery on Instagram. I seriously can't complain about anything after seeing Williams' crazy devotion to this sport.
When Williams' docu-series was announced, Mark Shapiro, co-president of WME and IMG, said in a statement:
Serena Williams is a force unlike any other. Her entire life is one of the hero's journey, and it has been a privilege to work with her as she enters this next phase. HBO was an incredible partner in developing a unique look into Serena's world, and we look forward to sharing this all-access story with the world in May.
It sounds like Williams isn't holding anything back in this series, which is so admirable to see.
Being Serena premieres on Wednesday, May 2, at 10 p.m. ET on HBO.