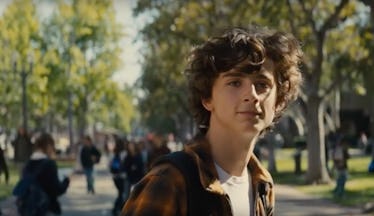 The Trailer For Timothée Chalamet & Steve Carell's New Movie Will Leave You Sobbing
YouTube/Amazon
Um, should we just give Timothée Chalamet and Steve Carell Academy Award nods now or what? The Beautiful Boy trailer was released by Amazon Studios on Wednesday, so prepare your tear ducts accordingly. The moving clip teases the upcoming drama, which focuses on a young man's meth addiction through the eyes of his dad. The film is inspired by the respective memoirs of father and son Nic Scheff and David Scheff and is already looking like an emotional gut-punch of a cinematic experience featuring performances from some of the most celebrated actors around.
Beautiful Boy is stacked with Oscar nominees and winners. The film stars 2017 breakout Chalamet — who wowed audiences with his gripping and tender turn in Call Me By Your Name — as Nic. The Office alum Steve Carell has more than proven his range over the years — not only has he made us laugh in classics like The 40-Year-Old Virgin, he's received acclaim (and awards) for dramatic roles in Little Miss Sunshine, The Big Short, and Foxcatcher.
"There are moments that I look at him, this kid that I raised. And I thought I knew him inside out. And I wonder who he is," Carell's character David says in the Beautiful Boy trailer.
You might want to grab a tissue for this one.
Beautiful Boy "chronicles the heartbreaking and inspiring experience of survival, relapse, and recovery in a family coping with addiction over many years." The film is directed by Felix van Groeningen (The Broken Circle Breakdown) with a screenplay penned by Luke Davies (Lion, Life.) A-lister Brad Pitt serves as a producer.
Maura Tierny (The Affair) also stars in Beautiful Boy, as does Academy Award winner Amy Ryan. Despite the heavy subject matter there's a happy note for Office fans, as the the film marks a reunion for Ryan and Carrell who portrayed love interests on the NBC sitcom. Michael Scott and Holly Flax forever.
"It will be different just by way of the subject matter, it's heavy, heavy stuff in such a way that Call Me Your Name isn't," Chalamet commented in an MTV podcast while discussing Beautiful Boy. "It's not an upper of a film."
Chalamet also touched on the "surreal" experience of making the intense addiction drama. "Your mind knows you're acting. But when you drop twenty pounds and you are under a rain machine for eight takes in a T-shirt— your body doesn't know you're acting," he added.
22-year-old Chalamet has a handful of projects lined up that are sure to garner further critical buzz. He's set to take on Shakespeare alongside Robert Pattinson in Netflix's Henry the IV and V-inspired The King, which premieres in 2019. He'll also reprise his Elio role for the Call Me By Your Name sequel.
"The desire was always just to be working with great directors and good storytellers and good actors. By tremendous luck, I get to be in two films (for 2017) that I'm very proud of and to get to work with Greta and Luca were transformative experiences. I'm just sitting in the moment, trying to savor it," Timothee told The Star last year, discussing his career.
It appears Chalamet will continue to get the chance to fulfill that professional desire as meaty and important projects continue to roll his way.
"When I read a screenplay that really makes sense it's very, very clear to me," Chalamet revealed to DP/30. "When I read that [Beautiful Boy], there wasn't an experience of calling an agent or a friend saying, 'Wow, I read this really great script and I can't wait to do it,' but rather like, 'OK, how is this going to happen because this can't not happen.'"
Beautiful Boy is expected to hit theaters October 12, 2018.