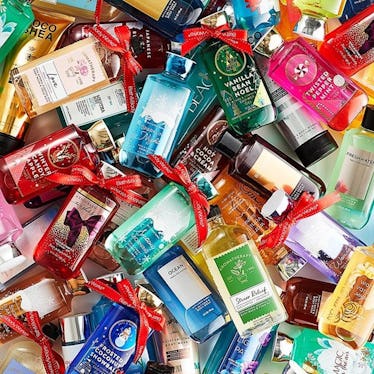 Bath & Body Works Is Offering 40 Percent Off *Everything* For Cyber Monday
bathandbodyworks on Instagram
Bath & Body Works is the place I go every December to shop for everyone — and I really mean everyone —on my Christmas list. I buy my mom a set of fragrance mist, lotion, and shower gel in her favorite scent (the iconic Moonlight Path), all the guys on my list — from my husband to my brothers — get colognes. I even stock up on cute gift sets and hold onto them in case of holiday emergencies. But today, Nov. 26's Bath & Body Works 2018 Cyber Monday sale not only means that I'll get an early start on my Christmas shopping, it also means I can load up on candles and wallflowers in the best scents (shoutout to Fresh Balsam) for myself.
For Cyber Monday 2018, the entire Bath & Body Works online shop is 40 percent off the original price! That's almost half off everything, including holiday arrivals, the luxe-feeling 3-wick candles, and gifts for the whole family. And to make things even better (I know, but yes, it is possible), with a purchase of $40 or more, you'll get free shipping. Visit bathandbodyworks.com on Cyber Monday only to start saving on your favorite bath and body staples and get an early start on your holiday shopping — no promo code needed.
But here's a bit of advice: Get to a computer as soon as possible. (I'm talking leaving work early, hiding your screen from your boss, logging late-night online-shopping hours, whatever you have to do.) This stuff is sure to go quickly.
To help you fill those virtual carts STAT, I'm sharing the best gifts for everyone on your list (plus yourself!) to save your money on at Bath & Body Works Cyber Monday sale.
Gifts For Her
Champagne Toast Cheers Mini Box Gift Set ($27; bathandbodyworks.com)
Vanilla & Patchouli Warm & Cozy Gift Set ($22; bathandbodyworks.com)
Japanese Cherry Blossom Winter Wonder Mini Gift Set ($14; bathandbodyworks.com)
Vanilla Bean Noel Holiday Traditions Cosmetic Bag Gift Set ($46; bathandbodyworks.com)
Frosted Cranberry Mini Candle ($7; bathandbodyworks.com)
In The Stars Ultra Shea Body Cream ($14; bathandbodyworks.com)
In The Stars Shower Gel ($13; bathandbodyworks.com)
Gifts For Him
Car With Tree Visor Car Scentportable Holder ($9; bathandbodyworks.com)
Midnight Blue Citrus Single Wick Candle ($15; bathandbodyworks.com)
Noir Cologne ($35; bathandbodyworks.com)
C.O. Bigelow Premium Shave Cream By Proraso for C.O. Bigelow ($10; bathandbodyworks.com)
Signature Collection Cypress Deodorizing Body Spray ($14; bathandbodyworks.com)
Home For Christmas Gift Card ($5 - $250; bathandbodyworks.com)
Gifts For You
Champagne Toast 3-Wick Candle ($25; bathandbodyworks.com)
Gems & Glitter 3-Wick Candle Holder ($13; bathandbodyworks.com)
Twisted Peppermint Nourishing Hand Soap ($7; bathandbodyworks.com)
Unicorn Nightlight Wallflowers Fragrance Plug ($13; bathandbodyworks.com)
Merry Mimosa Wallflowers Fragrance Refill ($7; bathandbodyworks.com)
Reindeer Pom PocketBac Holder ($10; bathandbodyworks.com)
In The Stars Bath Fizz ($15; bathandbodyworks.com)
Silver Lining Conditioning Silver Foil Face Sheet Mask ($6; bathandbodyworks.com)
Winter Candy Apple Hand Cream ($4; bathandbodyworks.com)
Aromatherapy Lavender & Vanilla Sleep Tight Gift Set ($22; bathandbodyworks.com)