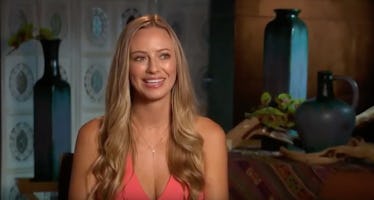 The 'Bachelor In Paradise' Finale Promo Is Full Of Engagements & Tears
YouTube
Bachelor in Paradise's fifth season has been such a dramatic whirlwind that it's hard to keep track of everything that's gone on and everyone that's hooked up. After watching each episode, I personally get the same feeling one gets after sitting in the heat too long — that hazy mix of exhaustion of general bleary-eyed confusion, yet you can't help but want more. Sadly the fun in the sun is ending next week, but the Bachelor in Paradise finale promo promises plenty more ridiculousness, romance, and riveting twists to come.
It looks like even the strongest remaining couples will get tested in the final moments of the season. Kendall and Joe have been pretty much as solid as an unripe avocado for the past few episodes. The couple even got a taste of domestic reality on Tuesday, Sept. 4's airing when they got stuck with a babysitting date that brought them even closer together. But something's clearly about set Kendall's emotions into teary overdrive.
"This is stuff that he like never told me before so I don't know how to take it," she laments to Astrid. Joe has become somewhat of an untouchable saint in Bachelor Nation's eyes — was he keeping a secret from Kendall? Gasp!
Kendall's distraught throuhout the clip (at one point she sobs "it's so hard!" in an interview), but she's not the only one struggling.
"He cheated. Over and over and over again," Olivia cries. "And that's so scary!" Oh, dear. I wonder who this mysterious cheating "he" could be.
To add further doubt into the pressure-cooker of a situation that is BiP, here comes Robby! The franchise alum is facing off against Jordan of all people and potentially coming between him and Jenna.
"Will anyone get married?" Chris Harrison's mighty voiceover asks in the promo. There are shots of a maybe-proposal (I spy what's likely a Neil Lane sparkler) and Jenna is seen wearing what looks like a wedding dress, although she calls herself a "ball of anxiousness." My guess is she's rocking the white frock for comedic effect, but ya never know since she's a self-proclaimed "nice alien."
Other stable pairs might be on the rocks too. "I'm happy, but it's just like so scary," Krystal says before a shot of a lone pensive Chris flashes on the screen.
If anything, here's hoping Astrid and Kevin don't face more issues because she admits she "wouldn't say no" to a proposal. Annaliese also sounds like she's expecting an engagement with Kamil, although that news probably comes as no surprise.
In addition to the Mexico-set finale, ABC will also air a reunion that will cacth audiences up with the cast post-Paradise and allow contestants to set certain records straight. Tia will be in the hot seat about Colton (duh) and the crowd is shown straight up freaking out over an event that probably involves someone getting down on one knee. The couples want to be the next Carly and Evan or Jade and Tanner (seriously, they give the entire process hope), but will any Season 5 participants live out their reality TV happy endings?
Bachelor in Paradise airs Monday and Tuesday nights on ABC.