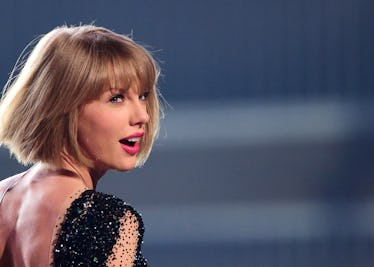 The Baby Singing "Gorgeous" In Taylor Swift's Instagram Has Fans So Confused
ROBYN BECK/AFP/Getty Images
OH. MY. GOD. YOU GUYS. We are less than a month away from the release of Taylor Swift's sixth studio album, Reputation, and, with each passing day, the anticipation builds. In an effort to hype us up even more (and potentially send us flying into cardiac arrest), Queen Swift just released a clip for a new track called "Gorgeous," which features an upbeat sound and a baby singing the word "Gorgeous". Like her previously released singles off the forthcoming Reputation, "Look What You Made Me Do" and "...Ready For It?," "Gorgeous" is a unique sound for Swift, and the baby singing certainly has Swifties worldwide a bit confused.
That aside, though, the eight-second clip confirms we're in for a totally new era in Swiftian history and I, for one, am ready for it. As for who the lucky (read: already richer than me) baby featured on "Gorgeous" is, that's a mystery that already has fans talking. Since Tay loves to keep secret details about her music cryptic, who knows if we'll ever find out. One way or the other, two things are for sure: The old Taylor is seriously dead and "Gorgeous" is going to be a bop.
Lately, in typical T. Swift pre-album fashion, Swift has been holding "secret sessions" for lucky fans across the world to listen to Reputation before it's released next month. Of course, this means some Swifties have already heard "Gorgeous" and *seem* to know who the baby featured is.
That hasn't stopped the rest of us from wondering, though. Perhaps she'll let us in on the secret once the song/album is released, but, knowing Swift, I'm not holding my breath. For now, though, we can just rejoice in knowing that new Swift sounds will be entering the universe sooner rather than later.
After a lengthy hiatus, Swift announced her return to the public eye in late August. In a dramatic and extravagant campaign, the singer wiped her social channels #clean before uploading several videos to Instagram, Facebook, and Twitter, all of which come together to depict a slithering snake (aka the new Taylor).
Since then, the country-star-turned-pop-queen has released two singles that show off her new, drastically different sound and prove she did not come to play. The first single — "Look What You Made Me Do" — in particular, has had fans and the media speculating for almost two months about who the lyrics and video might be referencing. With Swift's aptness for writing songs that reflect her personal experiences, it's no surprise Reputation is already slated to be filled with diss tracks a la 1989's "Bad Blood."
Indeed, a Swift source recently revealed to Us Weekly that Reputation "chronicles [Swift's] feuds" with major A-listers like Katy Perry, Calvin Harris, and, of course, Kanye West. "It will be across multiple songs, somewhat cryptically," says the source, before adding, "but also obvious."
It certainly sounds like, despite the old Taylor being dead, Ms. Swift is up to her usual tricks with this album.
This era of Swift's, though brand new, hasn't been without its criticism. The singer has caught slack from the media for what many have interpreted as her mocking Kim Kardashian's robbery in her "Look What You Made Me Do" video, meanwhile some have slammed Swift's "new sound," saying it is noticeably similar to some of Kanye West's older songs.
Others, still, claim Swift's "LWYMMD" video copies Beyoncé's iconic "Formation" video in obvious ways.
Whether or not any of these similarities are intentional or coincidental is a mystery, but something tells me nothing is ever an accident when it comes to Swift. I guess now all that's left to do is see who "Gorgeous" might be about.
You can buy and stream "Gorgeous" from T. Swift's upcoming album, Reputation, everywhere at 12 a.m. on Oct. 20.
Check out the entire Gen Why series and other videos on Facebook and the Bustle app across Apple TV, Roku, and Amazon Fire TV.