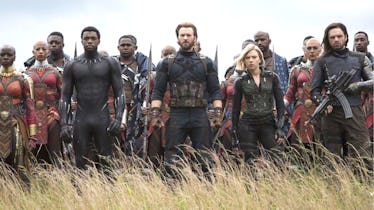 The 'Avengers: Infinity War' Blooper Reel Is Already Here & You Need To See It
Marvel
There are a lot of things fans still don't know about Avengers: Infinity War. For instance, there's the plot. Marvel has revealed the overarching story: Purple Dude with an empty glove shows up on Earth, starts wreaking havoc trying to fill it. Our main cast of Avengers, plus several additions from Phases II and III, all make their way to earth to stop him. But beyond that, fans know precious little. Now Marvel has released new footage that proves...the cast had a very fun time making the movie. The Avengers: Infinity War blooper reel is here, and the good news is that the cast had a ball making it.
But wait! The blooper reel is here before the actual movie? That's right. Marvel is just throwing out all the rules when it comes to this film and doing whatever they please. They want to move the U.S. date up to match the U.K. release? Then that's what they'll do. They don't want to tell us the title of the sequel coming in just a year from now? Then they're not telling. They want to release bloopers and behind the scenes footage before we've even seen the film? Yup, they're doing that.
Best part? Even without seeing the film, this is totally worth it.
This is more than a blooper reel, though it certainly contains some funny outtakes. (Also some deliberately created outtakes. Someone added in all that CGI to the unusable footage of Pratt flicking off the camera as he falls through the Dr. Strange vortex.)
But Avengers: Infinity War serves as a film with two purposes, which is why it has two kinds of trailers. There's the more traditional trailer we see for all films, quick-clip adverts made for TV that maintain the movie's serious "the Earth is in danger" tone.
And then there are these, the funny, character breaking clips, which serve to remind us that this is the 10th anniversary of Disney's Marvel Cinematic Universe, and Infinity War the 20th film of the series. That's because Infinity War (and the follow-up, the Still-Untitled Avengers 4) also serve as the end of this first massively successful period of the MCU.
It is widely expected at the end of these films, most of the core cast who have become synonymous with "The Avengers" will retire or be killed off, much in the way these characters are in comic books. When they go, either their long-standing sidekicks or characters who have been recently introduced will step into the places to carry on the legacies and the film franchise. Marvel refuses to confirm this of course, but when you're releasing a blooper reel that ends with Robert Downey Jr. reflecting on his legacy as if to say goodbye, it's not hard to see why fans are steeling themselves against the inevitable farewells to come.
It's also interesting that the usual suspects like Robert Downey Jr. and Chris Evans aren't being trotted out to the morning shows. Instead, it's those who we expect might step up into those places who are doing the more high profile press junket stops, like this video from Good Morning America, which features Benedict Cumberbatch, Tom Holland, and Tom Hiddleston.
Holland, as the new (and generally age appropriate) Spider-Man has been cited a lot as one expected to carry on to Phase IV. Cumberbatch's Dr. Strange is also expected to get a sequel to his film after Avengers 4 has come and gone. (Though some have noted that unlike Spider-Man 2, there are no concrete plans for Dr. Strange 2.) Only Tom Hiddleston has carried over from Phase I, but with Thor: Ragnarok 2 expected as the only franchise to continue into 2020, he'll probably somehow survive the coming of Thanos, as only Loki can.
Avengers: Infinity War arrives in theaters on April 27, 2018. The follow-up, the Still-Untitled Avengers 4 arrives a year from now, on May 3, 2019.