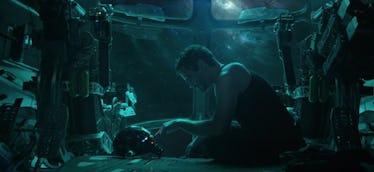 The 'Avengers 4: Endgame' Trailer Is Here, So Get Ready For The Biggest Battle Yet
Marvel Studios
It's the end of the world as we know it, and the Avengers aren't fine. More than six months since Marvel fans saw half of the world's population disintegrate at the end of Avengers: Infinity War, the Avengers 4: Endgame trailer is here. Get your tissues ready!
The official trailer for the 2019 blockbuster officially dropped on Dec. 7, also debuting the superhero mashup's subtitle for the first time. Despite early speculation that the fourth film would be named Avengers: Infinity Gauntlet, the choice of Endgame is simple and makes perfect sense. After all, we last saw the remaining Avengers in a pretty bleak place, so everything about to follow definitely depends on how their battle against ultimate villain Thanos fares.
ICYMI (but how could you have?), Avengers: Infinity War detailed Thanos' success in retrieving all six of the Infinity Stones and using the Infinity Gauntlet's full power to wipe out 50 percent of the world's creatures. Only half of the heroes remained, including at least four of the five original Avengers. Hawkeye (Jeremy Renner) was seemingly off the grid for the duration of the film, but fans left the movie unsure of what his and Ant-Man's (Paul Rudd) final statuses were.
The Endgame trailer has quickly answered theories that Hawkeye and Ant-Man survived Thanos' wipeout and will reunite with their remaining friends to save the world. In the promo, a masked figure with a sword removes his disguise to reveal himself as Hawkeye. Ant-Man's alter ego, Scott Lang, also appears at the end of the trailer, trying to convince a stunned Steve Rogers (Chris Evans) and Natasha Romanoff (Scarlett Johansson) to let him into their hideout. As seen in Infinity War's post-credits scene, Nick Fury (Samuel L. Jackson) also managed to summon Captain Marvel (Brie Larson) before vanishing, so the team's rescue mission definitely seems plausible.
While Captain America and Black Widow are tracking down survivors, Tony Stark (Robert Downey Jr.) is still stuck in space, where he was with Peter Parker (Tom Holland), Peter Quill (Chris Pratt), and Dr. Strange (Benedict Cumberbatch) before Thanos' powers activated. Although Nebula (Karen Gillan) survived the disintegration alongside Tony, he isn't exactly hopeful about his chances of returning home.
Although we can keep our fingers crossed that the arrivals of Hawkeye and Ant-Man give the Avengers a boost, the trailer decidedly veers away from optimism. When Natasha tries to comfort Steve about their plan working, he grimly says, "I don't know what I'm gonna do if it doesn't."
Well, considering Evans' concluding stint in playing Cap, maybe Steve should particularly look out for any deadly threats coming his way.
The Russo Brothers, the directors of the last two Avengers films, previously told ComicBook.com about this finale:
You can't chase bigger because you get yourself into trouble. What you can chase is story telling. So, everything for us is based on the story. Obviously, this is larger in scale than Civil War because we have more than double the amount of characters in it, and it's Thanos, and it's cosmic. The stakes are the universe. You can't get much bigger than that.
Given the trailer's gloomy mood, we can't help but agree that Endgame has infinitely high stakes. Time to start theorizing!
Avengers: Endgame is in theaters in April 2019.