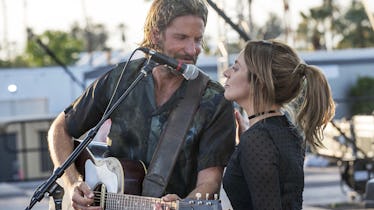 The 'A Star Is Born' Ratings Are Out Of Control, So Get To The Theater ASAP
Warner Brothers
Each phase of Lady Gaga's career has been a headline maker, from her Little Monster phase in 2009 to her partnership with Tony Bennett. But for her latest transformation into Oscar contender, Gaga had to strip down and dive into the most American of songbooks: country and folk music. But with the film finally about to go into wide release this week, her Oscar campaign is just getting started, and if the A Star Is Born ratings are anything to go by, she may have a decent shot at a nomination.
The original A Star Is Born (which was not a musical) came out in 1937. It was a story grounded in Hollywood, rumored to be a thinly-veiled biography of starlet Barbara Stanwyck. It wasn't until the first remake, in 1954, which starred singer Judy Garland, where the musical element was introduced. It then carried over in the Barbra Streisand remake of the 1970s, who not only kept it a musical but reset the film out of Hollywood and into the world of rock and roll.
The current remake has been kicking around since the 1990s, but it wasn't until Bradley Cooper took over the project a couple of years ago that it finally got off the ground. It's looking like his work was a success too, as Rotten Tomatoes currently ranks it at a whopping 95 percent fresh, only two points shy of the 1954 classic, which stands at 97 percent fresh.
The legendary Peter Travers of Rolling Stone was bowled over:
By dumping the usual Hollywood bull for something that feels raw, scrappy and lived in, Cooper and Gaga knock it out of the park. Their movie, one of the year's very best, is a modern musical classic. The Oscar race is officially on.
And Ann Hornaday at the Washington Post is moved by how it balances modern cynicism with the power of belief in stardom:
A Star is Born offers a suitably jaundiced glimpse of starmaking machinery at its most cynical, but also its most thrilling and gratifying.
As for how the film will do, it's opening against the first giant superhero blockbuster of the fall season, Sony's Venom. The latter is currently forecast to cross the $150 million mark this weekend. But A Star Is Born is expected to do well for an Oscar film.
Cooper's version was shot out of a cannon during its Venice and Toronto premieres... put[ting] its domestic opening at $30M+ at 3,500 locations, and global at $50M+. There is a constituency in the industry who believes the country concert-rocker film could get to $40M in the U.S. and Canada, but that remains to be seen. What is certain is that older females are making a beeline for this emotional musical, and many look forward to it playing and playing (perhaps even longer at the B.O. than Venom).
The real question is if the movie can play long enough to keep Gaga in contention for the Oscar race come January. For that, viewers will have to wait until 2019. Meanwhile, A Star Is Born premieres on Friday, Oct. 5, 2018.