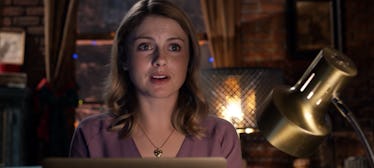 The 'A Christmas Prince: The Royal Wedding' Trailer Is What Holiday Dreams Are Made Of
Netflix
England's royal family blessed us with a double dose of weddings this year, but I'm always looking for an excuse to dust off a plastic tiara and dive into watching others' wedding bliss. Just a year after Amber Moore's questionable journalism skills landed her a prince, she and her princely beau are ready to tie the knot this Christmas. The A Christmas Prince: The Royal Wedding trailer looks like a holiday dream come true, and I'm psyched for one last royal blowout before saying goodbye to 2018.
In last year's A Christmas Prince, journalist Amber (Rose McIver) was sent to the small kingdom of Aldovia to cover rumors that the country's heir, Prince Richard (Ben Lamb), would renounce the throne before his Christmas coronation. Posing as Richard's little sister's tutor, Amber discovered a major secret about the prince's heritage amidst slowly falling for him. Even after she was revealed as a fraud, she managed to track down proof ensuring that Richard was still a legitimate heir, and Richard accepted his fate as king. Just as every present needs a bow on top, every fluffy Christmas movie needs a proposal, and A Christmas Prince was no exception. After her blog about his true self caught his attention, Richard surprised Amber with a New Year's Eve proposal.
Definitely checking off the essentials of the so-bad-it's-good movie trope, A Christmas Prince ignited enough fan response for Netflix to officially announce a sequel ahead of Prince Harry and Meghan Markle's May 2018 wedding. The teaser video confirmed that the holiday-themed sequel would focus on Richard and Amber's wedding. Netflix's official synopsis of the film reads:
A year after Amber helped Richard secure the crown, the two are set to tie the knot in a royal Christmas wedding - but their plans are jeopardized when Amber finds herself second-guessing whether or not she's cut out to be queen, and Richard is faced with a political crisis that threatens to tarnish not only the holiday season, but the future of the kingdom.
If the Harry and Meghan Lifetime movie didn't fulfill your love of commoners marrying princes, the Christmas Prince: The Royal Wedding trailer looks like it's here to save your holiday wish.
As seen in the trailer, Amber is struggling with the transition to royal life weeks before her Christmas wedding, Paparazzi corner her and her dad, while the royal wedding planner and ancient Aldovian traditions don't exactly gel with her personal vision for the big day. Faced with the pressure to abandon her blog about the royals before marriage, Amber becomes fed up with changing herself for the sake of the crown's public image.
Although Amber should have looked toward the Duchess of Sussex for advice on social media shutdown, the rest of her troubles are classic Cinderella-esque concerns. Knowing how loyal Amber is to Richard, I wouldn't be surprised if she puts her own worries aside when Richard's political crisis emerges. The trailer didn't drop any hints about what that drama entails, but even if she has to retire as a journalist, Amber's investigative skills will probably prove worthy again during this mess.
We all may re-watch my favorite moments from Harry and Meghan's wedding on a regular basis, but here's to new examples of royal love just in time for the holidays. A Christmas Prince: The Royal Wedding begins streaming on Netflix on Friday, Nov. 30.