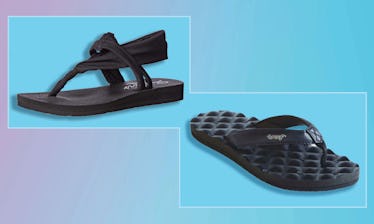 These Flip Flops Are So Comfortable, You Might Just Throw Out Your Slippers
Amazon / Elite Daily
Whether you wear them on adventures, or just throw them on while walking around the house, most people can agree that finding the most comfortable flip flops can be life-changing. That said, since there are thousands of options to choose from, pinpointing the perfect sandal for your needs can be a bit of a daunting task. For that reason, there are a few things you should look for when shopping around for a new pair.
When choosing flip flops that are actually comfortable, it may be beneficial to pay close attention to the footbed's composition. Foam, neoprene, and even soft PU materials will likely to give you optimal, form-fitting cushioning with each and every step. Another important factor is the comfort level of the thong piece, which goes in between your toes. It should be just the right fit (not too thin or too thick), so that it doesn't cut into your skin or spread your toes too wide.
Lastly, support should also be a crucial consideration. Although it's not a common feature among flip flops, finding something with arch support or extra cushioning in the heel area will definitely be a game-changer for those who may suffer from foot pain — or for those who choose to wear their flip-flops on errands, hikes, and trips.
While taking all these factors into consideration, I've compiled the eight best options for various styles, budgets, and needs.