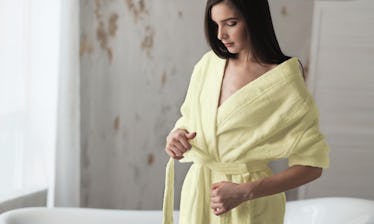 These Bathrobes Are So Cute & Cozy, You'll Never Want To Take Them Off
If you've already started searching for the best women's bathrobes, you've probably found there's a lot of variation between materials, fabrics, weaves, and styles. The trick is to find one that caters to your specific needs and preferences.
First, ask yourself: Do you prefer an absorbent bathrobe that feels like a towel? Or do you enjoy something more plush that's ideal for lounging around? Maybe you're looking for a bathrobe that's easy to move around in while you're getting ready? Your answers to these questions will help guide you to the right choice.
When it comes to the best materials and fabrics, there are a few popular options. Cotton is breathable and absorbent, while polyester is more durable and flexible. Polyester can also be made into more plush fabrics, like microfiber and fleece. Then, there's weave type. The more common weaves for bathrobes include terry cloth, which has similar properties to a towel, and waffle, which feels more spa-like.
You'll also want to think about the kind of style and fit you like. If you want more warmth, full-length bathrobes will be a better choice than those that are knee-length or shorter. Also, consider the length of the sleeves. Full-length sleeves also keep you warmer, though a bathrobe with 3/4-sleeves will make it easier while you're getting ready (aka you won't have to worry about your sleeves getting wet in the sink while washing your face or putting on makeup).
Now that you know what to look for, read on to find the bathrobe that works best for you.