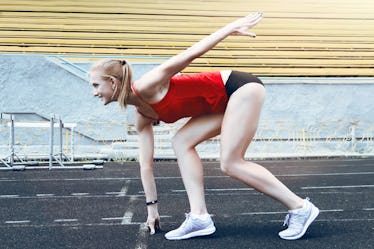 If You're A Runner, These Are The Only Underwear Worth Buying
Uncomfortable underwear is a surefire way to ruin a good workout, especially if it's a pair that traps moisture, rides up, or chafes. Luckily, the best underwear for running prevents all of that — but finding a reliable pair is easier said than done. Before you start shopping, it helps to know which materials and designs are best-suited for exercise.
For starters, you'll want to buy a pair with moisture- and sweat-wicking technology so you can stay dry throughout your entire run. This will help to keep you feeling fresh and cool, but it'll also help to prevent chafing. Your choice of fabric will be an important aspect here. Some of the most comfortable and quick-drying fabrics are constructed from a blend of cotton, nylon, and spandex, but weave is also important for breathability: Mesh weaves and thinner textures will allow for better ventilation.
After settling on your fabric blend, you'll also want to find a brand that won't ride up or chafe your skin. To prevent this issue, it's important to find underwear with seams that lay flat, so they won't rub and bunch up as you move.
Lastly, think about the type of coverage that makes you feel most comfortable. Although style may be a matter of personal preference, you'll also want to pinpoint a pair that allows you to move with ease. Boyshort, briefs, and other designs that offer more coverage may feel comfortable to some, while other styles such as thongs and bikinis may be a better fit for others; the latter may also help to prevent underwear lines through workout clothes.
With that said, this list of workout-friendly underwear has a little bit of something to keep every runner comfortable, dry, and feeling good.