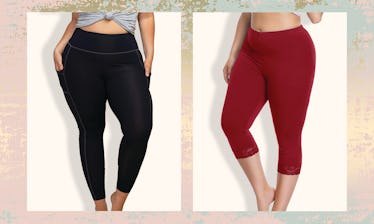 These Comfy & Cute Leggings On Amazon Are Available In Sizes Up To A 5XL
Amazon/Bustle
Leggings have become an important staple in many wardrobes over the past few years. While they were once worn primarily for working out, they've now become a popular pant for running errands, relaxing, or even a night out. The best plus-size leggings come in various styles — whether you're looking for cropped, mesh, faux-leather, or printed — but the most important factor is their overall comfort-level and fit.
As you shop for new leggings, be sure to look for a pair that's made of high-quality materials. Most workout leggings will feature a blend of polyester and spandex, which will make them stretchy, smooth, and breathable — but the percentage of spandex does matter. A lower percentage of stretchy materials will ensure that the pants stay opaque and can pass the "squat test."
Leggings made from cotton, microfiber, or pleather will likely be considered fashion leggings. Since those fabrics aren't performance materials (meaning that they aren't ideal for working out in) these leggings are intended to be worn in place of more-formal pants. Either way, whether you choose to stick with a basic black pair or go all out with a galactic print, these eight plus-size leggings are the top-rated options for a reason.