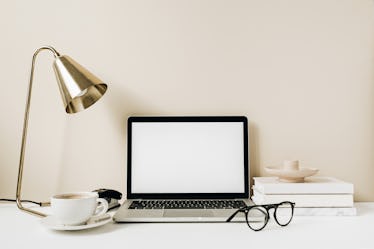 These 8 Sleek LED Desk Lamps Provide The Optimal Lighting For Working Day Or Night
Shutterstock
While LEDs may be slightly pricier than standard incandescent bulbs up front, they use around 75% less energy and last about 25 times longer, which is why LED desk lamps offer an energy- and cost-efficient way to light your space. The best LED desk lamps can be customized in terms of brightness, color temperature, and angle of the bulb so you get the light you need to be your most productive.
As you shop, you'll likely see a few different terms thrown around:
Color temperature: This is the "warmth" of the light given off, measured in kelvins. Many of the below options allow you to adjust between tones ranging from 2,700 to 6,000 kelvins (K). Keep in mind that the lower the number, the warmer (aka cozier) the temperature; interestingly, "bright white" light that falls in the 4,000 to 5,000 K range is considered best for work spaces.
Brightness: The higher the lumen, the brighter the LED will be. As a bulb with 800 lumens is enough to light an entire room, you'll find that many desk lamps will have ratings as low as 260, creating enough brightness for a small, focused area — and some offer adjustability here, too.
Screw-in versus integrated: This refers to the actual type of LED fixture. Screw-in bulbs are standard, replaceable lights — you will often need to buy these separately from a lamp, but you'll be able to choose the bulb suited to your temperature and brightness preferences. On the other hand, integrated light sources are built into the lamp itself, so they can't easily be replaced (but fear not — most have a lifespan between 10,000 and 50,000 hours).
Beyond that, lamps will come in different designs that offer varying degrees of adjustability, from goosenecks to swivel heads to swing arms. Consider the angles they can be positioned so you know you're getting coverage where you need it most. Some lamps will also have extra features, like USB ports, wireless phone-charging plates, or even a digital clock display.
Ahead, the best LED desk lamps for your workspace.
We only recommend products we love and that we think you will, too. We may receive a portion of sales from products purchased from this article, which was written by our Commerce team.