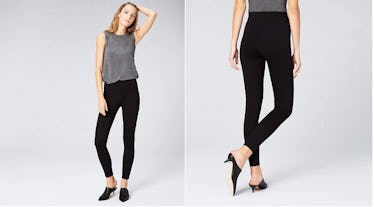 From Work To Working Out, These Are The Best Black Leggings On Amazon
Amazon
There are too many awesome things about black leggings to count — they're comfortable, they go with everything, they hide stains ... and the list goes on. When it comes to finding the best black leggings, you'll usually want a combination of the following:
Softness: This one is kind of a no-brainer — you obviously want them to feel soft and cozy. Cotton tends to be the softest material, but it's also warm, so unless you're shopping for cold weather leggings, stick with polyester or other breathable blends.
Stretchiness and Recovery: Being comfortable is the whole point of leggings, so stretch is a key factor. However, you'll also want the fabric to have good recovery so they don't get baggy. Fabrics likes spandex, elastane, and LYCRA (which are all basically the same) will give you the most flexibility.
Moisture Management: If you plan to wear your legging to the gym or in hot weather, you'll want material that's breathable, moisture-wicking, and quick-drying. This will best be achieved via fabrics like polyester, rayon, and nylon.
With these considerations in mind, I've put together a list of the best black leggings on Amazon. I've included different categories for various occasions. Take a scroll to find the best fit for your closet.