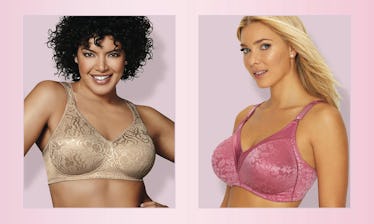 Yes, Supportive Wireless Bras Do Exist! And These Fan-Favorites Prove It
Amazon / Elite Daily
Finding a comfortable, well-fitting bra is a real game-changer, and there's a huge selection of them on Amazon. The most comfortable wireless bras are a great alternative for those who don't like underwires, and they're perfect for lounging, sleeping, and everyday wear. Many even offer plenty of support.
The right fit is essential when shopping for bras, and sizes may differ slightly between brands. It's a good idea to know your measurements and store them in an easily accessible place to have on hand while shopping. To determine your measurements, all you need is flexible measuring tape and some simple instructions. Do you suspect you may be wearing the wrong bra size? If there's cup spillage over the top or sides, or gaps in the cups, the straps slip, or the band rides up, you may need a different fit.
Most wireless bras offer less structure and support than underwire styles, but there are some wire-free options on this list that offer a bit more support with padded cups and cleverly positioned panels. Bralettes tend to offer the least amount of support if you like that feeling of freedom.
The options on this list are available in a range of colors and sizes, so no matter which style you prefer, there's a comfortable wireless bra for you.