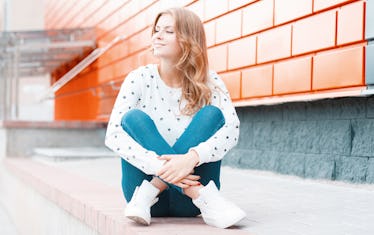 The Most Comfortable Skinny Jeans, According To Reviewers — & They're All Under $60
Shutterstock/Alones
An unfortunate fact: A lot of skinny jeans are tight, pinch your waist, and hug you in the wrong places. Luckily, there are a few gems out there that are truly comfortable to wear. The key when searching for the most comfortable skinny jeans is the fabric blend. One thing all of the comfiest skinny jeans have in common? They are made with a stretchy material, like spandex or elastane, woven into the denim. The added stretch allows for tons of flexibility as you move.
Pay mind to the inseam of jeans, and whether or not they come in multiple lengths. If jeans are too long or short for your frame, you may have extra fabric bunched up around your ankles or strategic rips in awkward places that make an otherwise pair of comfy jeans feel less than ideal when you're actually wearing them.
And, as with any clothing purchase, you'll also want to consider your personal style. It doesn't matter if you find the softest skinny jeans in the world if you don't love the wash and the stitching. The good news is that you can find just about any style, from basic to distressed, dark to light wash, if you know where to look.
Here's a roundup of some of the most comfortable skinny jeans out there in tons of styles so you can finally find your perfect pair.