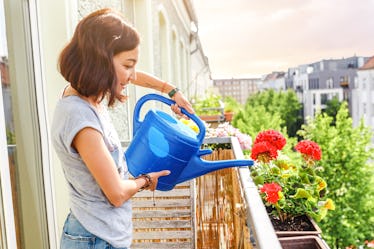 These Easy-To-Use Watering Cans Will Ensure Your Plants Never Go Thirsty Again
Shutterstock
Whether you're tending to a vegetable patch or an indoor succulent garden, the best watering cans will come in the spout style you need to give your plants the right amount of moisture. You'll also want to consider the can material.
Plastic Vs. Metal Watering Cans
Metal watering cans: They boast a more decorative, vintage-inspired aesthetic, but they will be heavier than their plastic counterparts, so consider how much water you'll be hauling. Since they can rust easily, you'll want to make sure to get one that's either galvanized or has a zinc coating, especially if you plan to keep it outdoors.
Plastic watering cans: More simple in their design, plastic cans are lighter weight, more affordable, and built to last for both indoor and outdoor use (though, for the latter, make sure to double-check for UV resistance). A transparent container lets you monitor the water level at a glance.
How To Choose The Right Spout
For bigger outdoor jobs, like watering garden beds, a rosette sprinkler head will deliver the most optimal, shower-like flow. But if you're taking care of indoor plants or tending to a flower box with mixed varieties — you'll get a more targeted stream from one with a longer, narrow spout. Models with an adjustable or removable head, however, will be the most multipurpose. Whichever you go with, though, take note of the stem length so you can ensure you're getting the proper reach.
Watering Can Capacity
Most watering cans can hold 1 to 2 gallons of water which is ideal for covering bigger plots, like greenhouses or gardening beds, without having to make too many refills. If you're working mostly with houseplants, though, consider something much smaller that will be easier to handle and store.
With that in mind, take a look at the best watering cans below and find your perfect fit.
We only recommend products we love and that we think you will, too. We may receive a portion of sales from products purchased from this article, which was written by our Commerce team.