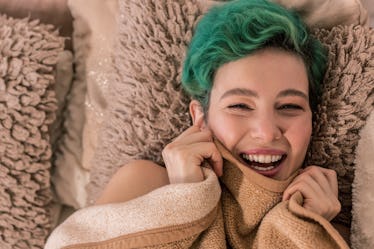 These Vibrators Are All Under $25 — & Amazon Reviewers Are Buzzing With Delight
Cheap vibrators are easy to find. You know what's kind of tough, though? Finding the best vibrators under $25 that'll actually last and are still exciting enough to become a regular part of your repertoire. Just because you're on a budget shouldn't mean you have to lose out on any of the fun.
When scoping out the most budget-friendly options, you should first look for materials that are not only body-safe but non-porous, too (so they can easily be sanitized between uses). A problem with many cheap sex toys is that they're made with materials that are linked to infections, hormonal imbalances, infertility, and even cancer. Your best bet is to stick with medical grade or FDA-approved silicone, which is water-resistant, non-porous, and easy to clean. Other safe options include stainless steel and borosilicate glass, though you're unlikely to find a toy made of those materials at this price point.
Aside from the material, you should also think about what kind of stimulation you're interested in. Vibrators are often a gateway sex toy for beginners, and they can really vary in terms of what they offer and which areas they target most. Knowing what you want can help you hone in on which features you want most in an inexpensive toy.
Below, I've rounded up a list of the best budget-friendly vibrators, with a little something for everyone — whether you're looking for clitoral- and G-spot-stimulation, prostate-stimulation, or a little of everything. Read on to see which vibrators have Amazon reviewers buzzing with delight.