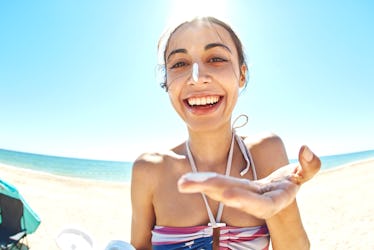 These Are The Absolute Best Facial Sunscreens, From Tinted Formulas To Baby-Safe Creams
It's not exactly groundbreaking news to hear that you should be applying sunscreen before you head outside. But the importance of putting sunscreen on your face every morning — yes, even in the winter — is a little less well known. Since sunlight is the main source of UV rays, and the American Cancer Society notes that exposure to UV radiation increases the risk for developing skin cancer, applying sunscreen to your face daily is a must. Of course, finding the best facial sunscreen can get tricky because there are so many options available, and the skin on your face tends to be more sensitive than the rest of your body.
First things first, it's important to look for a facial sunscreen that says broad spectrum. This is because a broad spectrum SPF protects you from UVB and UVA rays, which both contribute to signs of skin damage such as brown spots, damaging your skin cells' DNA, and an increased risk of skin cancer. You'll also want to look for a broad spectrum SPF of at least 30. Any lower, and you won't be getting enough protection, though SPF numbers higher than 30 don't actually offer that much more protection.
When it comes to effective sunscreen ingredients, ecamsule, avobenzone, oxybenzone, sulisobenzone, titanium dioxide, and zinc oxide are all safe bets. Titanium dioxide and zinc oxide typically found in mineral sunscreens, which tend to be preferred by people with sensitive skin because the skin doesn't absorb them. They can sometimes leave a white cast on the skin, though — aka the telltale sign you're wearing sunscreen — which is why some people prefer a chemical sunscreen.
As for application, if you want to save yourself an extra step in the morning, swap out your usual moisturizer for one with an SPF. The American Cancer Society also notes that you should be applying about one ounce of sunscreen to your face (that's why relying solely on a foundation with SPF won't cut it).
Ahead, you'll find some of the best facial sunscreens to get you started — all of which offer broad-spectrum protection.