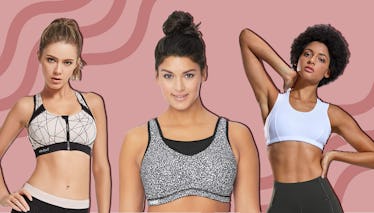 The 7 Best Sports Bras For Big Boobs — & They're Affordable AF
Elite Daily/Amazon
Pretty much all of the best sports bras for large breasts have a few thing in common: wide, supportive straps; an elastic waistband that is soft and won't dig; and a durable and stretchy construction that can move with you. But, beyond that there's a lot of options out there. So, as you shop, keep a few things in mind.
First and foremost, you'll want to consider how rigorous your workouts are and what type of support you want. Sports bras can typically be broke down into three support categories: high-impact sports bras which are best for high-intensity workouts like running, soccer, and kickboxing; medium-intensity bras which are best for moderately intense activities like hiking, badminton, or even vigorously cleaning your home; and low-impact bras for low-intensity activities like yoga, walking, or Tai-Chi.
That being said, your personal comfort-level should also be taken into consideration. People with bigger boobs may want more supportive styles even during low-intensity exercise. Others may find high-impact sports bras too constricting and uncomfortable. Consider you past experiences, what do you typically like and dislike in a sports bra? When in doubt opt for styles with adjustable features. And above all else, make sure you are buying the right size.