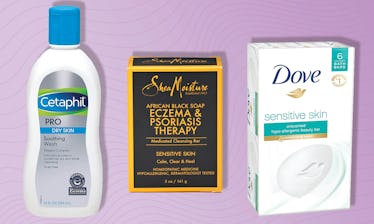 A Derm-Approved Guide To The Best Soaps For Eczema, From Body Wash To Hand Soap & More
Elite Daily/Amazon
While there are several types of eczema, and cases can range in severity, eczema is a fairly common skin issue affecting just over 31 million Americans, according to the National Eczema Association. Symptoms and triggers can certainly vary, but in addition to stress, one of the most common causes of eczema's itchy, red patches is simply washing your skin — or more specifically, what you're washing your skin with. To help determine the best soaps for eczema, dermatologist and founder of her eponymous skin care line, Dr. Loretta Ciraldo MD FAAD, is here to explain the basics.
"Avoid sodium, ammonium lauryl, or laureth sulfate," Dr. Loretta says of sulfates in general, which give soaps their foaming abilities, but are also known irritants. "Artificial color and artificial fragrance can also exacerbate eczema," she says of other common offenders. Once you've checked the ingredient label for these irritants, Dr. Loretta says that it's important to make your soap does contain moisturizers. Since dry skin can make eczema worse, gentle hydrating ingredients, and even some essential oils, like chamomile and lavender (Dr. Loretta's favorites), are necessary to prevent skin from feeling stripped and tight.
In addition to being choosey with your soap, Dr. Loretta says how you wash your skin can also help prevent flare-ups and calm current ones. "Bathe or shower in tepid/room temperature water, only until your fingertips are looking wrinkled. This means you've maximally rehydrated your skin," she explains of the importance of not having prolonged contact with water. "Pat your skin dry and apply a barrier product like CeraVe, Eucerin, or Lubriderm to the skin while it is still damp." This will help lock in moisture and strengthen your skin while keeping it protected from future irritation.
Whether you're in need of a gentle face cleanser, body wash, or even hand soap, these are seven of the best soaps for eczema to give a try.