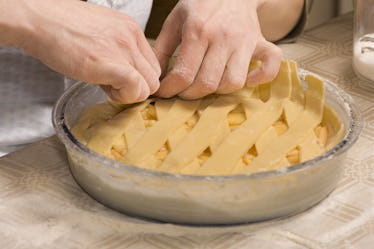 7 Pie Plates That Every Baker Needs, No Matter Their Skill Level
Andris Tkacenko / Shutterstock
You can't bake a pie without one of the best pie plates, but choosing the best pie plate for your kitchen requires thinking about your baking needs so you can select the correct material and size for you. Top-rated plates are able to withstand high temperatures and are made from glass, metal, or ceramic. A typical pie plate measures 9-10 inches in diameter, but mini pie plates are an option for personal pies, and springform pans are ideal for deep-dish versions.
Glass is a popular pick because it heats slowly and evenly, which means you're less likely to burn the bottom of the pie — especially since you can check for browning through the clear glass. Tempered or borosilicate glass are standard, and both should last if treated properly. That said, tempered glass is more likely to shatter from extreme temperature changes (such as moving directly from the fridge to the oven), and borosilicate is more likely to shatter when dropped.
On the other hand, dishes made from steel and/or aluminum don't have much risk of shattering. They also conduct heat faster than glass, which makes them good for blind baking crusts. While reusable metal dishes will heat more evenly than disposable ones, sometimes a disposable tin is exactly what you need if you want to throw away the pan when you're done.
Finally, ceramic pie plates are some of the prettiest options, and heat slowly and evenly like glass for a uniform bake. Unlike glass, however, they shouldn't shatter from extreme temperature changes.
Regardless of the material, keep an eye out for any extra features you might want like being dishwasher safe or having a nonstick coating to reduce sticking (just be careful not to scratch them). A pie plate with a lid can be nice for easier transport, too.
Taking all of this into account, I've done the research to find the top pie plates for any home baker.
We only recommend products we love and that we think you will, too. We may receive a portion of sales from products purchased from this article, which was written by our Commerce team.