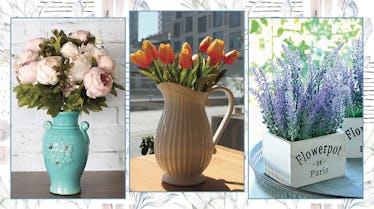 Brighten Your Space With These No-Fuss Fake Flowers That Look Like The Real Deal
Bustle/Amazon
Today's fake flowers are not the same crunchy, faded flowers your grandmother had in every room. These flowers actually look real — which admittedly can be difficult to tell online; so I've created the quick guide below for picking artificial flowers that will fool everyone. The best fake flowers that look real will be in a material that meets your budget and aesthetic preferences and includes stems, leaves, and other details that make them appear even more realistic.
Materials
Most fake plants are made from silk, plastic, and sometimes latex. Here are some things to consider about each type.
Silk: This material is soft and flexible, however, it does require ongoing maintenance (i.e dusting and sometimes a deep clean). While silk can capture nature movement better, it is more prone to wear and tear.
Plastic: This material is sturdy and a breeze to clean, requiring little more than a few wipes with a damp cloth. In particular, polyurethane is an incredibly moldable plastic that can look even more realistic.
Latex: A realistic-looking alternative to plastic and fabric, latex flowers are made using molds and, thanks to this material's malleability, it captures veins, uneven outlines, and even some flaws of the real flowers, which help to make them look more realistic.
Most fake plants are designed with a combination of materials that include metal wire stems so that you can bend and twist the bulbs to look more realistic. Flowers that come as individual stems or have the ability to be cut provide even more control over the look of your arrangements — simple tricks like trimming stems in a variety of different heights can provide a fuller, more realistic presentation. If you are searching for an outdoor fake plant look for one with a UV-resistant coating that protects against fading and other damage.
Some of these picks come with vases, while others do not and require more handiwork (and upfront investment to also secure a vessel), so make sure you choose based on your preference and budget.
With that in mind, here are a few of my favorite fake flowers that totally look real — including a few with more than 4,000 reviews on Amazon.
We only recommend products we love and that we think you will, too. We may receive a portion of sales from products purchased from this article, which was written by our Commerce team.