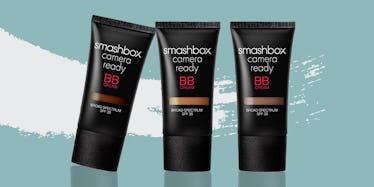 7 Holy Grail BB Creams For Anyone With Oily Skin
by Kristin Collins Jackson
Amazon / Bustle
It's clear that BB creams are one beauty trend that's here to stay, but they do more than offer a light moisturizing coverage. Folks with excess oil production can find relief by nabbing one of the best BB creams for oily skin, it that's a concern for you that you're looking to fix.
BB creams, or beauty balms, are multi-functional creams that offer light coverage along with an array of skin care benefits. They can even out complexions, cover blemishes, serve as a primer, provide SPF protection, and some can even help combat excess oil. But to avoid choosing a cream that leaves skin feeling greasy, oily skin types should pay special attention to the ingredients and look for products rich in antiseptic minerals that fight bacteria.
Remember, even though the goal is minimizing oil production, the skin should never feel dehydrated. It may seem counterintuitive but hydrating formulas are an absolute must for oily skin. Keep an open mind with BB creams that contain oil, too. Many plant-based oils work to balance oil production, not increase it.
But no matter what your skin type, one of the most frustrating challenges when buying a BB cream is finding the right shade. BB creams are notorious for only being available in a few light shades. Thankfully, the market has begun to diversify and more and more brands are offering a wider array of shades. So don't worry, if you've ever had trouble finding your shade in the past, this list should have you covered.
Now that you know what to look for, these BB creams will get you started on your quest for oil-control and coverage.