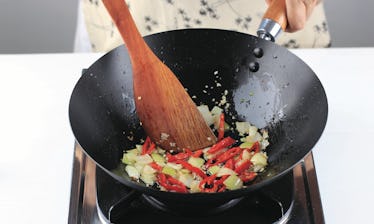 These Wok Spatulas Are Comfy To Handle And Safely Whip Up Delish Wok Meals
Elite Daily/Amazon
For stir-frying and more, a wok's unique shape, with tall, sloped sides, is a standout for high-heat cooking. The best wok spatulas feature long handles for comfortably and safely stirring in the wok at those hotter temperatures, and they come in materials suitable for your type of pan.
Whether you have a metal or nonstick wok will help you narrow down which wok spatula works for your setup. Here's what you need to know:
Metal is the traditional choice for wok spatulas, aka wok chuan. Usually made of stainless steel, this spatula is durable, nonreactive with acidic ingredients, and usually conveniently dishwasher-safe. If you choose a metal spatula with a wooden handle, it'll be cooler to hold while cooking, but know you'll need to wash it by hand. Also know that a metal spatula is not compatible with a wok with nonstick coating.
Wood is a lightweight and versatile option that won't scratch nonstick pans. Keep in mind you'll need to wash a wooden spatula by hand, and it can get stained over time. Bamboo is a popular option for its durability, affordability, and heat resistance, and it can be a more sustainable choice, too.
Silicone wok spatulas are some of the easiest to maintain because they're dishwasher-safe. They're also high-heat tolerant like metal and wood, but keep in mind this material isn't as sturdy, so scraping food in a wok might take some more effort. It's safe to use in a nonstick wok or pan.
Wok spatulas are distinct for their long handles to protect your arms from the high heat. Look for a spatula that measures about 14.5 inches, from end to end, which fits most woks well for stir-frying. A nice-to-have feature is a loop at the end of the handle for hanging the spatula for storage.
Now, here are the six best wok spatulas — each one is highly rated on Amazon. I've also included an award-winning cookbook that will help you get the most out of cooking with your wok.
We only recommend products we love and that we think you will, too. We may receive a portion of sales from products purchased from this article, which was written by our Commerce team.