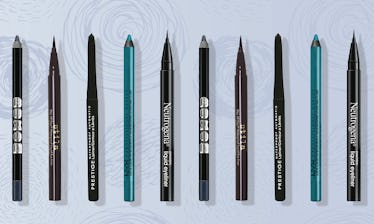 These Are The Best Waterproof Eyeliners On The Market, From Liquids To Gels To Pencils
Elite Daily/Amazon
When it comes to makeup, there are few things more frustrating than nailing your cat-eye only to notice it's smudged (or even worse — disappeared entirely) a few hours later. Even if dramatic eye makeup isn't typically your style, allergies, humid weather, and, obviously, anything that involves water, can cause even the simplest swipe of liner to fade or smear. That's why it's important to keep one of the best waterproof eyeliners in your makeup kit.
Finding a waterproof eyeliner is pretty straightforward since they'll often be labeled as such. But that doesn't necessarily mean that all waterproof eyeliners are created equal. If you have sensitive eyes, waterproof formulas may not always agree with you since they contain more waxes and polymers to give them their longer staying power, which can be harsh on the gentle skin around your eyes. This means you may need to try a water-resistant formula instead, and you'll definitely want an eyeliner that's hypoallergenic, fragrance-free, and alcohol-free, too.
Of course, if you're using a waterproof formula, finding the proper eye makeup remover to go with it is just as important. To cut through waterproof eyeliner, you'll want an oil-based makeup remover (or, if the word "oil" freaks you out, an oil-free cleanser that's specifically formulated for waterproof makeup removal). Certain micellar waters should work, too. Using a specially-formulated makeup remover not only ensures you're removing every last trace of waterproof eyeliner, but it also eliminates the need to aggressively scrub your eyes, which can cause irritation (and a few lost lashes).
Below, discover five of the best waterproof eyeliners you can buy.