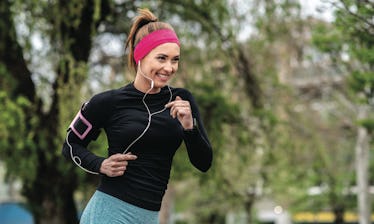 These Moisture-Wicking Sweatbands Will Keep You Comfortable Mile After Mile
Bustle / Amazon
When you're running, the last thing you want to deal with is sweat in your eyes or wayward strands in your face. That's where a sweatband comes in. Whether you log miles outdoors or on a treadmill, the best sweatbands for running soak up sweat with a washable, moisture-wicking fabric and let you focus on on hitting your next personal best.
Wicking fabrics are usually woven out of synthetics like polyester or nylon and often incorporate spandex for stretch. These materials don't absorb moisture and instead move the sweat away from your skin for quicker evaporation. As a result, wicking fabrics will help your body feel cool and dry — or at least cooler and dry-ish, depending on how hard you go.
Next, focus on fit. A good sweatband for running is usually a little wider than average to tame those flyaways. This is especially true for cropped haircuts that are too short for a ponytail: you might appreciate that extra coverage to help keep hair from sticking to the back of your neck. A wide sweatband can be pulled lower down on the forehead, too, for extra sweat-stopping power right above your eyes where you need it most.
Once you've narrowed down the right size for you, think about your specific needs. Fine or slippery hair that's prone to losing headbands and barrettes might want extra grip from a thin silicone strip inside the sweatband to keep it in place, for example. If you run outdoors, consider a sweatband with a visor for the added sun protection. A cooling headband can help regulate your temperature and potentially boost performance (marathon runners take note). On the other hand, winter runners will definitely want at least one fleece option to protect their ears from cold temperatures.
Whatever the weather you train in, these are the six sweatbands that can go the extra mile.
We only recommend products we love and that we think you will, too. We may receive a portion of sales from products purchased from this article, which was written by our Commerce team.