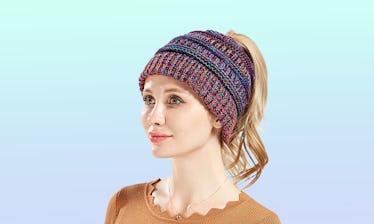 These Cozy Snowboard Beanies Will Keep Your Head Warm & Dry
While snowboarding, you always want to wear a helmet for safety. But if you're looking for something cozy to keep your head warm during down time on the slopes, there are a number of important factors to keep in mind. In addition to personal preferences, like style, color, and fit, you'll want to make sure your hat has the technical features to do its job properly. The best snowboard beanies will typically have the following qualities:
Moisture Management: Snowboarding is hard work, and it will leave you pretty sweaty. Between your own perspiration and the elements, you'll want a hat that wicks sweat and dries quickly. Every brand will have their own proprietary blend of fabrics, but generally speaking it should include some mix of polyester, spandex, Merino wool, elastane, or acrylic.
Comfort: If your hat is too too tight, feels itchy, or is otherwise uncomfortable, your day will go downhill fast. Breathable materials like polyester and nylon blends will provide warmth without the irritation. And if your scalp is especially sensitive, make sure to opt for a synthetic fleece instead of wool.
With these elements in mind, I've put together a list of the best winter beanies to help you narrow down your search.