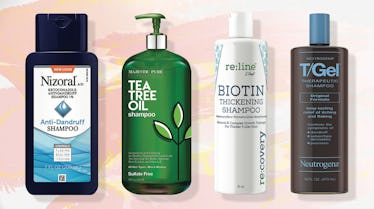 Treat Dry Scalps & Hair Loss With These Targeted Shampoos, Plus Tips From A Derm
Elite Daily/Amazon
Scalp dryness and hair loss can be two separate conditions, or, they can be related (more on that below). Regardless, one of the most important things you can do for both of these things is make sure you're using the right shampoo. The best shampoos for a dry scalp and hair loss will treat your underlying scalp condition and make your hair appear more full. You can also try alternating between a shampoo for dry scalps and a thickening shampoo every other wash.
According to Dr. Viseslav Tonkovic-Capin, M.D., there are a number of causes behind hair loss, so the first step is to speak with your healthcare provider to get to the bottom of it. Though Dr. Tonkovic-Capin says seborrheic dermatitis (dandruff), psoriasis, and allergic contact dermatitis may cause scalp dryness, they typically won't lead to hair loss on their own. However, he adds, "Due to itch and consequent scratching, there can be some transient hair loss" — something to keep in mind.
To treat a dry scalp, Dr. Tonkovic-Capin advises using shampoos that contain over-the-counter medications like ketoconazole, selenium sulfide, zinc pyrithione, salicylic acid, or tar. "Shampoo with cool to lukewarm water to reduce stripping natural and protective skin moisturizers from the scalp and the hair. If the scalp is too dry, then reduce the frequency of shampooing as well," he adds.
As for hair loss, he says, "There are many treatments for hair loss, depending on the cause, but, for now, there is no cure." But the right shampoo can make hair look fuller, at least. Dr. Naana Boakye, a board-certified dermatologist, says that in some patients, the scaling and dandruff from their seborrheic dermatitis can lead to hair loss, so seek out products with anti-inflammatory properties to treat the condition.
For the best shampoos for dandruff, dry scalps, hair loss, and other related conditions, scroll on.
We only recommend products we love and that we think you will, too. We may receive a portion of sales from products purchased from this article, which was written by our Commerce team.