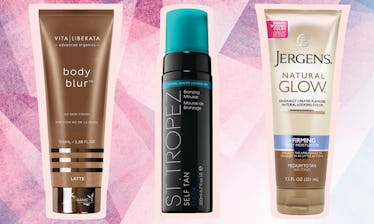 Just In Time For Summer: Here Are The Best Self-Tanners On The Market
Amazon/Bustle
Self-tanner is the only beauty product I know of that has the power to both change your life for the better or (tragically) for the worse. The best self-tanners can leave you with an instant golden glow that's better (not to mention healthier) than a week spent lying on the beach. But apply your self-tanner incorrectly, or use a bad product, and you'll end up with orange, streaky skin that has you hiding in your apartment taking four showers a day until it fades.
To avoid any self-tanner mishaps, make sure you do your research first by reading through reviews and completely following the product's instructions. Because most self-tanners use the active ingredient DHA to develop color, it's not practical to look through the ingredients list the same way you would your face serum or moisturizer.
But there are a few general rules. Over the years, I've learned that mousse formulas often mean a better tan because they spread easier than a lotion or spray. With a mousse, though, you always want to using a tanning mitt to ensure an even tan; mitts are also great because they cover more surface area than your hands.
For a more subtle or buildable tan, you might want to try a gradual tanner. They're so great because the color develops over time, meaning any mistakes are less noticeable and easier to correct.
It's also important to shave and exfoliate your skin 24 hours (or less) before you tan to make sure your skin is as smooth as possible, so you don't end up patchy. You should also apply some regular body lotion to your hands, elbows, knees, ankles and feet just before you tan because those areas pick up more color than the rest of your body.
Whether you want an instant glow that washes right off, or a deeper tan that will last all week, these are the best self-tanners to try.