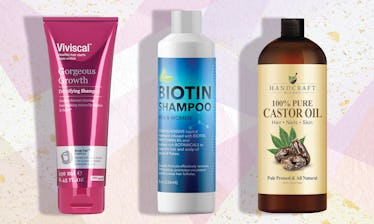 These Are The 6 Best Over-The-Counter Products For Hair Growth And Thickness
Elite Daily/Amazon
Like most things in life, changes in your hair, such as damage and shedding, don't have a one-size-fits-all solution. The factors that can take a toll on your hair range from more common culprits like vitamin deficiencies and extreme stress to more serious diagnoses like an autoimmune disease. Even something as simple as over-styling your hair with hot tools can cause damage or a change in texture. The best products for hair growth and thickness may not be able to perform miracles, but they can help restore your hair's health.
Before getting into the types of products and ingredients out there, it's important to note that if you're experiencing sudden hair loss or thinning, you need to schedule an appointment with a dermatologist. Not only can someone specializing in hair and scalp conditions help determine a comprehensive treatment plan, but they can also pinpoint the cause, making the issue easier to solve in the first place.
What Are The Best Treatments For Hair Loss & Thinning?
If you're looking to encourage growth and give your hair a volumizing boost, there are plenty of options, ranging from shampoos to oils and even supplements. A shampoo for hair growth and thickness is a good place to start because it will help cleanse your scalp of dirt, oil, and product buildup that can be blocking your follicles. A healthy scalp is the basis for healthy hair, after all, and many of these shampoos also include ingredients like biotin, vitamin B, and zinc, which help strengthen hair.
Supplements are another common choice for hair growth because they help ensure that you're getting the right vitamins your hair needs. Some also contain ingredients like biotin and keratin to help your hair grow faster. And finally, there are more hard-hitting ingredients that you can find in over-the-counter treatments, like minoxidil. The clinically-proven ingredient helps revive and increase the size of hair follicles while also extending your hair's growth cycle.
For a further breakdown on the clinically proven and natural solutions to improve your hair, check out the best products for hair growth and thickness listed ahead.